The Philips 3200 fully automatic espresso machine is the ideal choice when you need to make multiple cups of espresso each morning. Loaded with modernized features, this machine makes it possible to enjoy four coffees in less time. With the Philips 3200, you can heat water, make traditional coffee, or enjoy an Americano or Espresso Lungo anytime you want.
In this Philips 3200 Review, we will take a closer look at the many features this espresso machine has to offer and why you should consider it over the competition. With its aroma-seal feature and 12-step grinder adjustment, the Philips 3200 is a definite upgrade from older espresso machines. Anyone who has been on the fence about buying an espresso machine for home use should consider investing in this product. That is why we created this helpful buyer's guide. We hope it provides you with all the details needed to make an informed decision about this machine.
This product's also been included into these rankings:
Specifications
Dimensions (in.)
9.7 x 14.6 x 17
Review
The Philips brand is well-known for being a leader in various industries. They manufacture high-quality appliances that consumers have enjoyed using for many years. You can count on Philips's products to have multiple features to make your daily life much easier, and the 3200 is no exception. It is loaded with all the impressive features you need and none that you don't. This machine's simple operation and minimal maintenance make it easier than ever before to save money while you enjoy your favorite early morning beverage.
This fully automatic espresso machine is user-friendly and features an intuitive touchscreen, 12 user settings with an adjustable grinder, and the best part is it's easy to clean and maintain. The add-on smart water filter helps cut down on how often you need to descale your espresso machine. And it also providers users with easy access to the water tank and the brew unit for fast refills.
If you are interested in buying a quality espresso machine, read on to learn more about the Philips 3200. We believe this product is one of the best on the market, and it was our pleasure to review it and try it out for ourselves.
Overall performance and design
The Philips 3200 is an exceptional machine when it comes to how well it performs. It's very user-friendly, so if you are new to owning an at-home espresso machine, it will not take you long to learn how to use it. The intuitive touchscreen controls make it easy to choose the recipe you want. Just make a few selections, and the machine will do the rest. In a few minutes, you will have a delicious espresso without ever leaving your kitchen.
This machine has a contemporary structure and design that most owners love. Along with the touchscreen, the 3200 model has more controls than earlier Philips's espresso machine models. It features a bean hopper that is easily accessible and a water tank and controls found in front, making them easy to access.
The 3200 is an automatic espresso machine; this means that it will take care of many of the difficult tasks for you. The machine will grind the beans, heat the water, and tamp the grounds. It will extract the espresso under the exact amount of ideal pressure. This machine doesn't use pods or plastic cups, and they output perfectly ground espresso from the beans you want, all made fresh at home.
When compared to other Philips espresso models such as the 1200 and 2200, the 3200 model is a definite upgrade. It is more user-friendly than the other two models thanks to the added controls and buttons as well as the compact touchscreen display. All of this makes the 3200 much easier for users to manage.
This machine also comes with more built-in recipes for you to choose from. The 2200 model only has two built-in coffee recipes, and the 1200 model doesn't have any aromatic settings for you to customize. This makes the 3200 the best option for users who want to customize their espressos, so they have the ideal aroma and temperature, or you can try out some new recipes and brewing tips suggested by The Washington Post Trusted Source There's more than one way to make great coffee. Experts share their favorite brewers. - The Washington Post Do you want the morning ritual of a multiple-step process? Or do you need to push a button and get out the door? www.washingtonpost.com .
One of the negative aspects of this espresso machine is the noise level. The ceramic flat burr grinder is usually much quieter in other models. But in the 3200, the grinder is actually quite loud. Some would even agree that it is even louder than many conical burr grinders. The LatteGo milk system is also noisy. Still, most espresso machine owners expect some noise while running their machines, and the noise level for the 3200 is tolerable, just a little louder than some anticipated users.
The extraction process for this machine is pretty fast and may be too fast for some users. However, the brew still flows evenly through the spout without any unwanted sputtering.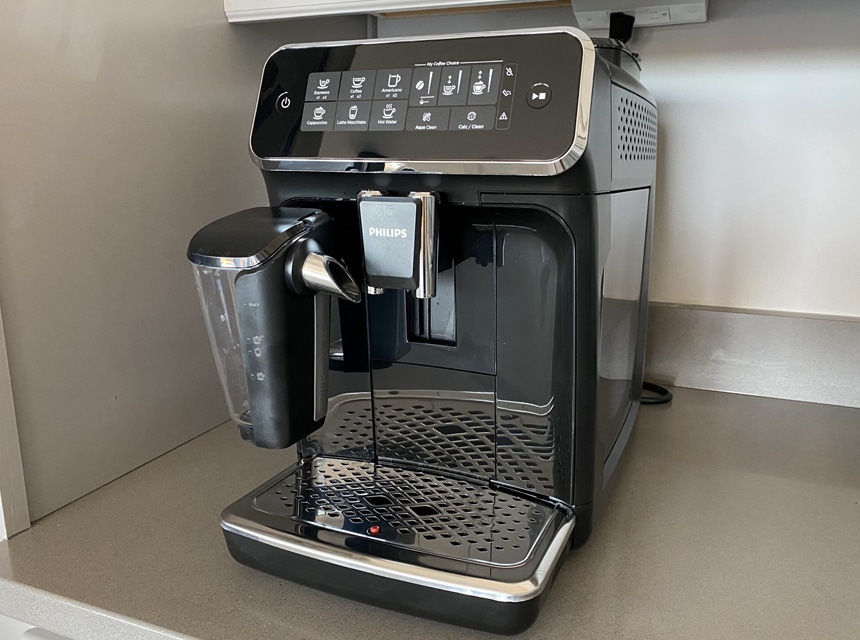 Capacity
The Philips 3200 espresso machine has a brewing capacity of 60 fl. oz. or 7.5 cups. It is equipped with a water tank with a capacity of 1.8L. If you are interested in an espresso machine that allows you to serve several guests at once, this is a great choice for you. However, if you are planning to place this machine in a high traffic area such as your office, it's likely you will still need to refill it several times a day. The good news is, refilling the water tank on the Philips 3200 is not a difficult or time-consuming task.
Material
This Philips espresso machine is made from high-quality plastic material. While that may be a quality that turns some consumers off, we have found that the plastic material is solid and durable. Most users have no complaints about the product's durability, and some owners actually appreciate that the plastic makes the machine lighter and easier to move around if needed. And although the case is made of plastic, the boiler material is made from stainless steel-lined aluminum material.
Dimensions and Weight
This product comes with a compact construction, and at 9.6 lbs., it doesn't weigh too much making it easy to move around. If you like to redesign your kitchen often, this espresso machine would be an excellent choice since it is much lighter than other models. The fact that the main material for this machine is plastic helps it to weigh less than other similar machines. However, most of all Philips espresso machines are the same size and weight and made from the same lightweight materials.
The overall dimensions for the Philips 3200 are 9.7 x 14.6 x 17, making it just the right size to display on your kitchen counter.
Power
The Philips 3200 is an electric espresso machine that runs on 120 volts of power. It is fully automatic and features an aroma extract system. This is a unique type of brewing system that creates the ideal balance between aroma extraction and brewing temperature.
Controller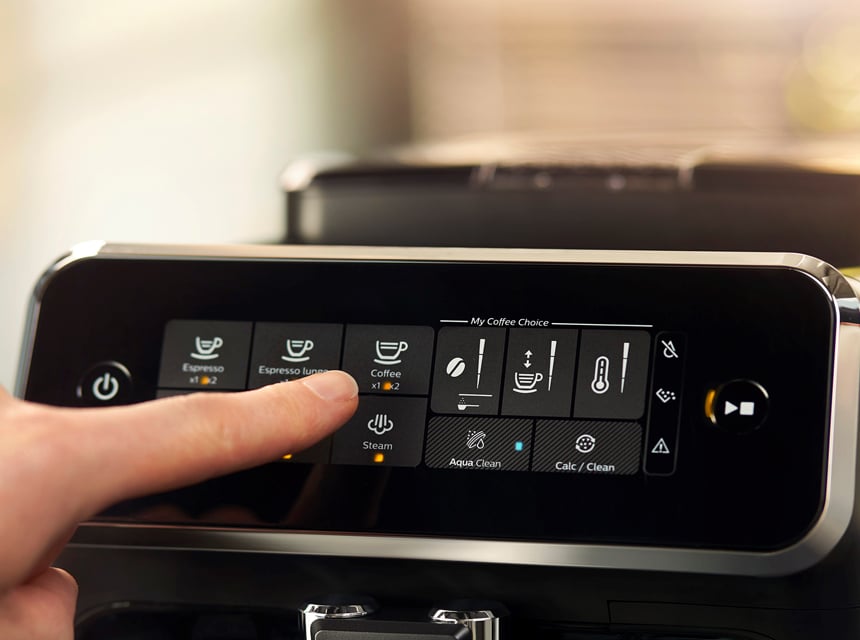 This Philips 3200 espresso machine features a touch screen control panel that is very user-friendly and makes the operation of this machine simple enough even for beginners. All you ave to do is to choose the type of coffee you want to make and touch the icon. Within minutes the latte, cappuccino, or espresso of your choice will be prepared and ready for you to enjoy.
Using the unique My Coffee feature, you can choose from three strength settings as well as the amount of milk or coffee you want to prepare. To do this, you simply need to use the touchscreen to set your coffee strength, set the amount of coffee you want and then set the amount of milk to be added. The machine will save your settings, and you can enjoy the same perfect coffee creation any time you want in the future.
Ways of using
With the demand for espresso coffee machines and higher quality beans Trusted Source Coffee drinkers are seeking out subscriptions and higher-end beans amid the pandemic - CNN Consumers have taken their specialty coffee shop habits home with them by buying pricier beans and trading up to fancier Folgers. www.cnn.com on the rise and expected to go up between 2021 and 2026, we can look forward to more coffee machine manufacturers creating products with high-demand features. Instead of consumers choosing from a variety of machines with minimal or basic features, now we can have access to compact espresso machines designed for home use that works similar to those at our favorite coffee shops and bistros.
You can create a variety of coffeehouse-style beverages with this quality espresso machine. You can customize your drink using the touchscreen controls by choosing from four different recipes and three different aromatic settings. The 3200 is equipped with recipes for espresso, lungo, coffee, and americano varieties. You have the choice to adjust these recipes in terms of voume3 and strength. You can also set for a single press or to brew for two. The included auto-frothing Panarello allows you to steam your drink to the perfect temperature. And if you want to make a decaffeinated drink, you can add pre-ground decaf using the bypass doser.
The Philips 3200 features an Aroma Extract System, an intelligent brewing system that helps you create an ideal balance between aroma extraction and brewing temperature. It does this by keeping the water temperature between 194° – 208°F during the brewing process. This results in the ideal aroma, crema, and perfect coffee temperature for each cup you prepare.
Cleaning
Keeping your Philips 3200 espresso machine clean is easy, thanks to the smart water filter. With this add-on feature, you can reduce the number of times you need to descale your machine. The water tank and brew unit are also easy to access to make cleanup easier.
Thanks to the two-part milk frothing system, the 3200 espresso machine is much easier to clean than other models. All the parts that should be removable to ensure a quick and hassle-free cleanup are easy to access and detach. This includes the brew group and the milk container.
It is extremely helpful that users can remove main components like the coffee grounds container, brew group, and water tank from either the front of the side of the machine. This makes cleanup less time-consuming because you don't have to fumble around in hard-to-reach areas. Overall, this machine deserves a high rating when it comes to ease of cleaning.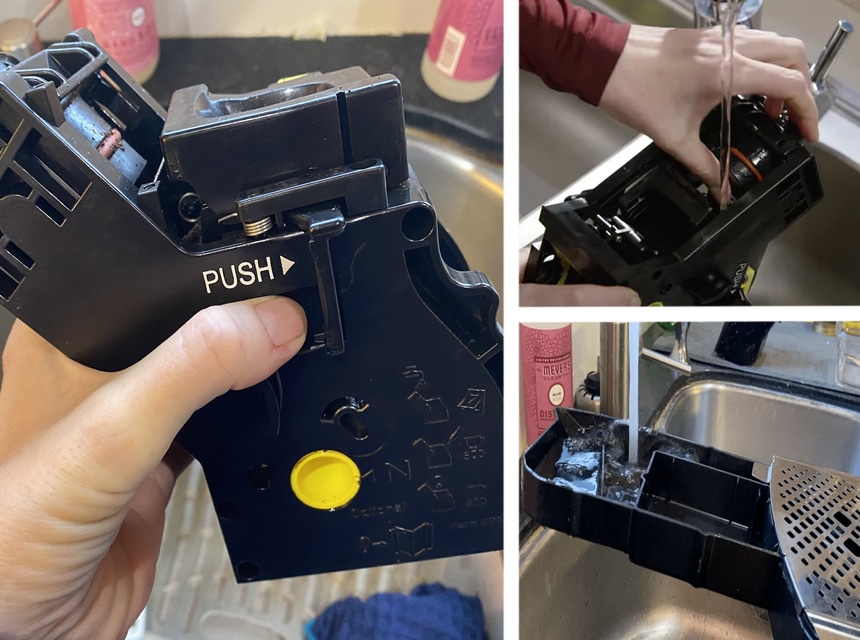 Ease of maintenance
Philips is a high-quality appliance brand and has kept its leadership status by providing its customers with the best level of support and service. Along with manufacturing quality products, the brand also supplies after-sale services for most of its products as well. This includes the Philips 3200.
As an owner of this espresso machine, you will receive a complete maintenance guide for the 3200 in the included owner's manual. The overall maintenance for this product is simple and easy thanks to the machine's construction, making frequently used compartments easy to access. The slide-out water reservoir, for instance, makes it easy to refill.
Owners also love that this machine is AquaClean enabled. With this feature, you can add a water filter, and the machine will keep track of your usage for you, allowing you to make up to 5,000 cups before descaling.
Descaling is a process that owners of espresso machines are very familiar with. Also known as decalcifying, this process is a necessary maintenance task that removes mineral buildup inside the machine. If you use water inside your espresso machine that is considered hard, this water can be very damaging to it. That's because hard water carries a higher percentage of damaging minerals.
It is necessary to descale your machine on a routine basis to ensure longevity and quality tasting coffee. And thanks to the AquaClean filter feature, you will always know when you need to descale your Philips espresso machine.
Warranty
The typical warranty period for Philips household products like the 3200 espresso machine is 12 months. The warranty begins on the date of purchase and expires on the date shown for each specific product. The Philips brand offers service and support for repairs during the warranty period for many products they sell. You may also get an additional warranty from the retailer you bought the espresso machine from if one is offered.
Price tag
When you want to purchase a quality espresso machine, it is recommended that you invest in a name-brand product that has excellent ratings and reviews. Doing so will ensure that you buy a long-lasting machine that will be worth every penny spent on it. Unfortunately, espresso machines are not the most affordable kitchen appliances, and when it comes to these machines, you get what you pay for.
The 3200 doesn't really vary in price when compared to other Philips espresso machines. So, if you choose between machines from this brand, it would be worth buying the one with the most features, like the 3200. This machine features four different programmable coffee recipes along with three different aroma settings and three temperature settings.
The Philips 3200 ranges in price between $799 and $599. You can also find refurbished models for as low as $499. We feel that it is reasonable compared to other products that do not offer the same quality or features like the Philips 3200.
Other features
The Philips 3200 espresso machine comes with an automatic shutoff feature. This means if you do not use the machine, it will shut off automatically after 15 minutes. After that, it will begin the rinsing process on its own.
This machine has other standard settings, such as adjustable grind settings using a wheel found inside the bean container. It is easy to program, even for first-time users.
The 3200 features the Philips LatteGo Milk System. This is a special container you fill up with milk and attach to the steam wand. The frother mixes the milk and air at an extremely high speed inside the chamber, then it pours the creamy froth layer into the cup at the right time, at exactly the right temperature. The container is made up of just two parts, and it's simple and easy to use. It also has only a few small parts, which makes it easy to clean.
The machine features clear, front-panel indicators that are easy to read and understand how they are used. You have the choice to choose from five preset coffee options or customize your own.
PROS

CONS

Minimal maintenance needed
Easy cleanup with removable parts in convenient locations
Touchscreen controls
Customize recipe buttons for the perfect aroma and temperature
Makes espressos, lattes, cappuccinos, and Americanos
Included steam wand gives you full control of the milk temperature

The noise level during operation is tolerable, but it is louder than many owners expected
There are no button backlights, just small indicators in the corner of the buttons.
Conclusion
The Philips fully automatic 3200 espresso machine is a convenient product that allows you to make delicious, high-quality coffee in less time. It is the ideal choice for people who love lattes, cappuccinos, and espressos but are always running on a busy schedule. The controls are easy enough for beginners to use, and the machine includes a variety of features sure to impress even an experienced barista. After putting together this Philips 3200 Review, we feel that it is one of the best espresso machines for home use for the money.
References
1.
There's more than one way to make great coffee. Experts share their favorite brewers. - The Washington Post
Do you want the morning ritual of a multiple-step process? Or do you need to push a button and get out the door?
2.
Coffee drinkers are seeking out subscriptions and higher-end beans amid the pandemic - CNN
Consumers have taken their specialty coffee shop habits home with them by buying pricier beans and trading up to fancier Folgers.