CoffeeVibe is reader-supported. We may earn a commission through products purchased using links on this page. Learn more about our process
here
When you wake up in the morning, what's the first thing on your mind? Before you can even think about starting a new day, getting that first cup of steaming hot coffee in your system is a must. To achieve this morning goal, you need a reliable, well-crafted coffee machine. One that works well every time. If you're in the market for a new coffee maker, you may be looking at Jura vs Delonghi. Both are well-known brands and while you probably can't go wrong with either of them, each brand has many products to meet different caffeine needs.
We'll take a look at both the Jura and the Delonghi brands before diving deeper into a few of their premium products. From espresso machines to more elaborate coffee makers, we've found the best that both companies offer. Our aim is that by the end of this article you'll have a better idea of which coffee maker will produce that perfect cup of java.
Brands comparison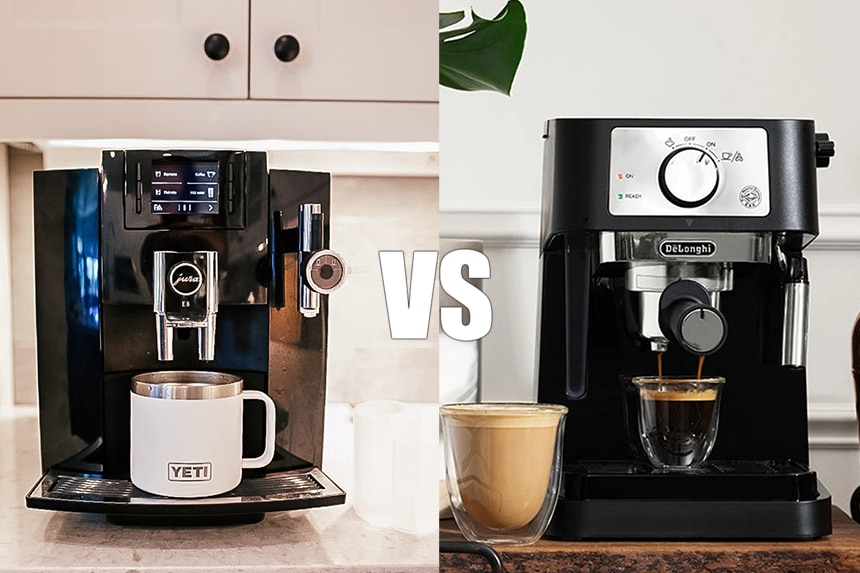 Jura is a Swiss company that started with a line of high-end appliances. While it was established in 1931, the company really hit its stride in the 1980s, and you can find their products in the home and office.
As for Delonghi, they have steadily became a leading brand in the coffee maker industry. Launching in 1993, the company has added more and more products to their repertoire. Perhaps the biggest achievement for Delonghi was in 2004 when they partnered with Nespresso. This ushered in the new era of pod coffee machines which has created more options and an easier way of making coffee.
Overall, Jura as a company likes to stick to a more standard two-year warranty while many of Delonghi's products come with a longer three-year warranty. Having extra time on your warranty is always a bonus as it allows you to really try out your coffee maker.
As for aesthetics, both have embraced the stainless steel look that is currently so popular. This is a sleek look that fits well with all kitchen décor. Overall, Jura seems to have a sleeker look than Delonghi, with their control panel displays more minimal and less buttons. Delonghi is still sophisticated, though, and once you try out their controls, it becomes easier to find and select what you want.
Price-wise, they are fairly evenly matched, depending on which models you are looking at. Delonghi tends to have some more high-end coffee makers but if you are working within a budget, you will be able to find more simple coffee makers at more affordable prices.
Jura vs Delonghi: Comparing popular models
Vertuo machines are popular with Nespresso lovers and the Breville and De'Longhi models stand right out of the competition.
So are semi-automatic machines popular with espresso machine users. In this section, we'll have a side-by-side comparison of the features of the best model from each brand in a table chart.
We'll also analyze these features in a more in-depth description, telling you what brand edges out the other in aspects of performance, ease of use, water tank, and capsule container capacities.
Jura E8 vs. Delonghi Prima Donna
Jura E8
Delonghi Prima Donna
What drinks it makes
latte macchiato, flat white, cappuccino, coffee, specialty coffee, espresso, ristretto, espresso doppio, macchiato, steamed milk with milk foam, milk foam
espresso drinks; cappuccino, latte, Italian macchiato, caffelatte, steamed milk with milk foam, milk foam
Dual coffee spouts
yes
yes
Milk reservoir
no
yes
Water tank
64 oz.
60 oz.
Dimensions
11 x 13.8 x 17.3 inches
9.4 x 13.6 x 17.4 inches
Warranty
2-year limited
2-year limited
VIEW ON 1STINCOFFEE
VIEW ON AMAZON
VIEW ON JURA
Coffee lovers that enjoy the option of different drink concoctions will be most interested in these two coffee makers. They are both very popular models and can be used for your everyday coffee needs.
The Jura E8 makes just about any type of coffee you can dream of. Whether it's a more basic drip coffee or espresso, or a fancy latte macchiato, your options are endless. Furthermore, it allows you to make steamed milk or milk foam, which really elevates your coffee options.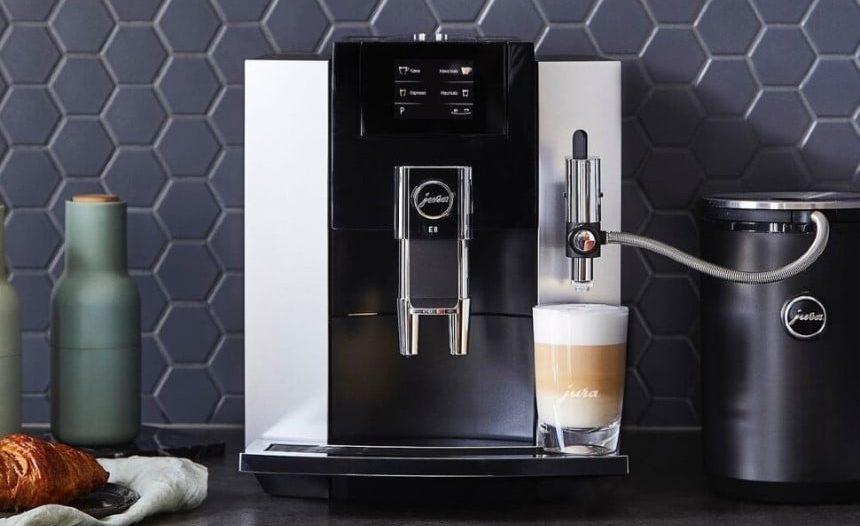 Similarly, the Delonghi Prima Donna also makes basic coffee and espresso, and if you're looking for more variety, also lattes and macchiatos. It too, produces steamed milk and milk foam. However, it can't quite make all the coffees your local shop produces, which may lead you to seek out an expensive coffee shop instead of making all your drinks at home.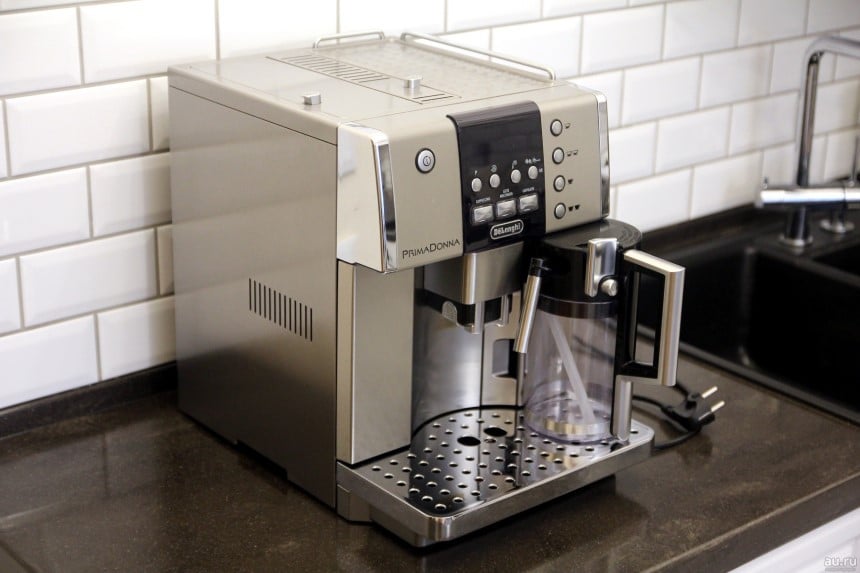 Capacity-wise, both machines are pretty similar. The Jura E8 has a 64-ounce water tank and the Delonghi Prima Donna is slightly smaller with 60 ounces. The large tanks on both mean you don't have to constantly worry about filling up your water and if you need to make large batches of coffee, the water tanks in each model are a bonus.
Another similar aspect to both machines is the warranty. Both the Jura E8 and the Delonghi Prima Donna have two-year limited warranties. This is standard but also adequate for your needs.
While there may be many similarities, one major difference is that the Delonghi Prima Donna comes with a milk reservoir while the Jura E8 does not. This is probably not a deal breaker, unless you are someone who loves steamed milk and doesn't want to go through the hassle of always pouring in milk.
Finally, if you're concerned about aesthetics, there's no need to worry with either coffee maker. Both feature glistening stainless steel and easy to use controls. Furthermore, their dimensions are almost identical.
After comparing the Jura E8 and the Delonghi Prima Donna, the one factor that will most likely be the deciding one is the price. The Jura E8 is almost double the Delonghi model. While it certainly has a few more coffee-making options, the craftsmanship of each model is relatively similar. You will have to decide if your ability to make a flat white coffee is worth the extra money.
Jura A1 vs. Delonghi Dinamica
Jura A1
Delonghi Dinamica
What drinks it makes
ristretto, espresso, coffee
espresso, long espresso, drip-style coffee + milk-based coffee drinks
Dual coffee spouts
no
yes
Milk frother
no
yes
Water tank
37 oz.
60 oz.
Dimensions
9.4 x 12.7 x 17.5 inches
9.5 x 13.5 x 17 inches
Warranty
2-year limited
3-year limited
VIEW ON 1STINCOFFEE
VIEW ON 1STINCOFFEE
VIEW ON JURA
Those that love espresso know that you need the perfect machine for the perfect drink. In fact, many people are willing to pay premium prices to achieve such a drink. The Jura A1 and the Delonghi Dinamica were both built for espresso. They do also make coffee but espresso is their main focus.
The Jura A1 is a bit more basic in that it specializes in coffee, espresso, and ristretto. Meanwhile, the Delonghi Dinamica has a few more options than just espresso. This is because it has a milk frother included. The inclusion of a milk frother means that you can combine your espresso with milk to make a whole hose of new drinks. This really widens the scope of the machine's ability.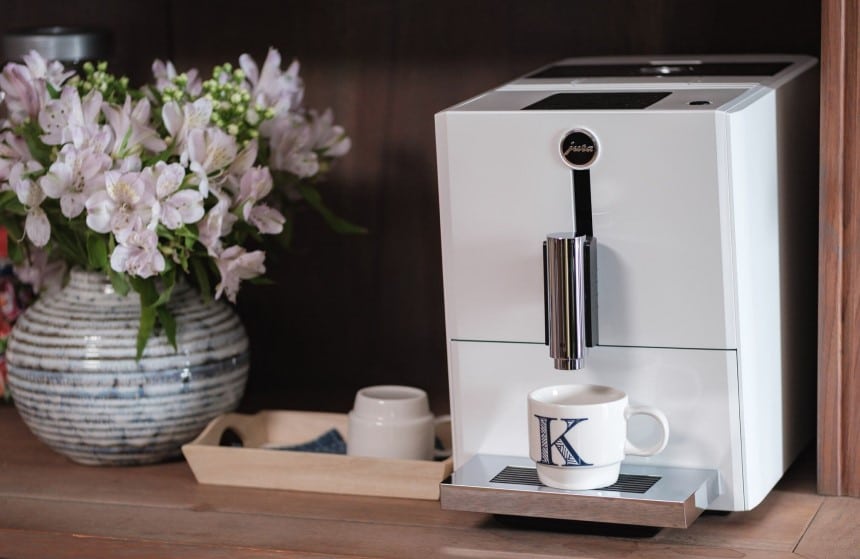 The Delonghi Dinamica also has dual coffee spouts. This is definitely not a necessity but it sure is a nice feature. The inclusion of dual coffee spouts allows you to make two shots of espresso at the same time. You can either use two small espresso cups, or, if you need a real pick-me-up, simply place a wide mug under the two spouts for double the enjoyment.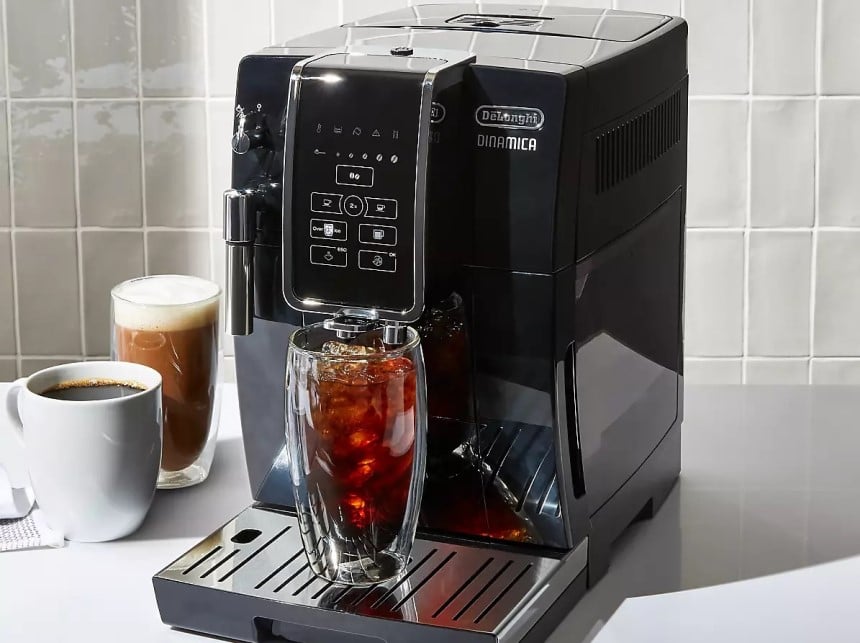 Another way the Jura A1 and the Delonghi Dinamica differ is with their water tank. The Jura has a 37-ounce tank while the Delonghi is almost double at 60 ounces. For those that drink a lot of coffee, a large water tank is a real timesaver. You don't have to worry about filling up water and instead can simply press a few buttons to have a delicious shot of espresso.
The Delonghi also has a three-year warranty with this machine while the Jura only has a two-year warranty.
Overall, the two machines are fairly similar in price. They also have very similar dimensions, which is a bit surprising given the extra spout and larger water tank in the Delonghi. All these factors make the Delonghi Diminica have an advantage. For almost the same price, you get more in your machine and more coffee options.
Jura ENA Micro 5 vs. Delonghi Magnifica
| | | |
| --- | --- | --- |
| | Jura ENA Micro 5 | Delonghi Magnifica |
| What drinks it makes | espresso, coffee | espresso, double espresso, cappuccino, latte, hot water, americano |
| Dual coffee spouts | yes | yes |
| Milk frother | no | yes |
| Water tank | 37 oz. | 60 oz. |
| Dimensions | 9 x 12.7 x 17.5 inches | 11 x 14.4 x 15.3 inches |
| Warranty | 2-year limited | 3-year limited |
| | VIEW ON 1STINCOFFEE | VIEW ON AMAZON |
With this comparison, you will have to decide if you are simply looking for a coffee maker that makes espresso and one that gives you a few more options. The Jura ENA Micro 5 is made to make espresso. It can certainly make drip coffee, but many people purchase it for its high-quality espresso abilities. Meanwhile, the Delonghi Magnifica gives you a few more options. In addition to coffee and espresso, you can also make cappuccinos and lattes.
The Jura ENA Micro 5 is a very simple to use machine. Simply make sure there are beans and water in the machine, press a button, and enjoy your drink. The ease of use is a draw to those who don't need a lot of fanciness in their lives.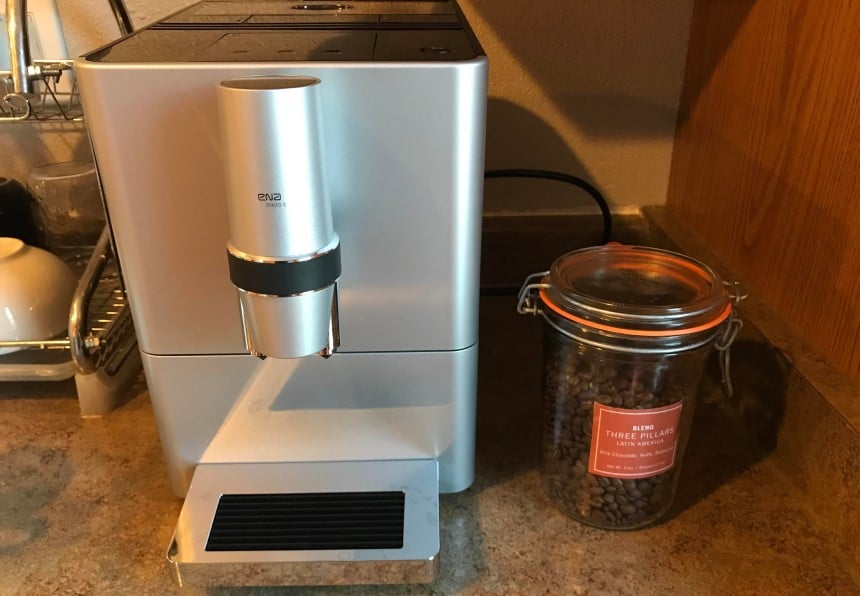 While the Delonghi Magnifica is by no means an extravagant machine, it does offer a few more coffee options. This is because, unlike the Jura, it has a milk frother attached. The ability to froth milk is what allows you to make those sumptuous lattes and cappuccinos. It's a nice addition and even if you aren't sure if you will be making those drinks, you might change your mind, or even have guests over that prefer a creamier coffee drink.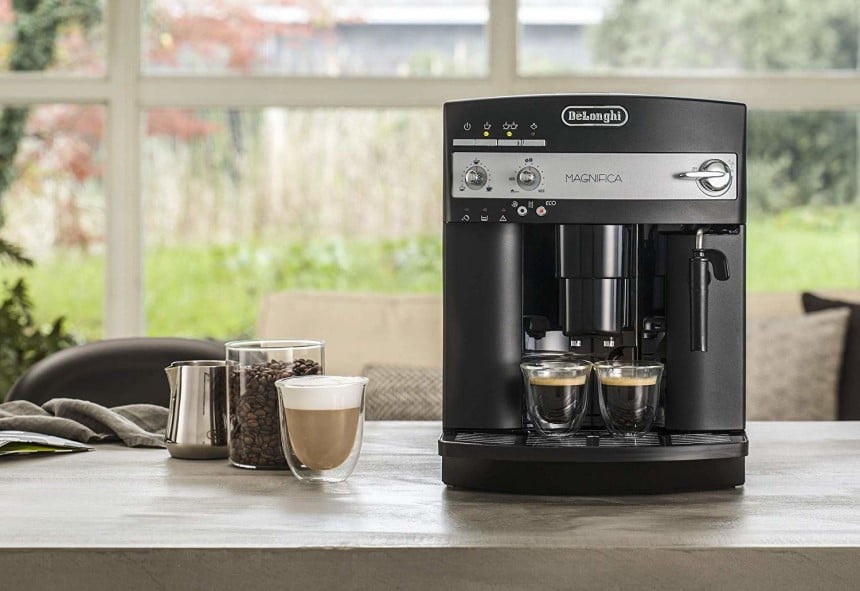 What is nice is that both the Jura ENA Micro 5 and the Delonghi Magnicia both have dual coffee spouts. The ability to make two espressos at once is a lovely time saver and if you need to be wide awake fast, saves time in getting that important caffeine into your system.
One difference between these coffee makers is the water reservoir. The Jura ENA Micro 5 only has a 37-ounce reservoir while the Delonghi Magnifica has a much larger 60-ounce reservoir. Coffee lovers know how important that extra space is as it can save you some time and effort.
The Delonghi Magnifica also excels in the warranty area. It has a three-year warranty while the Jura ENA Micro 5 only has a two-year warranty. Two years is still good but if you can find a product with a longer warranty, it's always a bonus.
Overall, the Delonghi Magnifica has more options but can also be a bit confusing to navigate. There are more buttons and a larger control pad. However, it is relative in price to the Jura ENA Micro 5 and if feel like you will get ample use out of your milk frother, then it is the machine for you. If you are someone who wants to stick to their tried and true espresso, then the Jura ENA Micro 5 will be perfect.
Final thoughts
It used to be that there were only a few options when it came to selecting a coffee maker. While this certainly made a decision easier, it also meant you had to go elsewhere for a premium cup of coffee. Now that there are elaborate machines that make café-quality coffee, the choice can be overwhelming. In particular, picking a brand can be hard. When it comes to Jura vs Delonghi, both brands offer a wide range of products. If you are into a simply shot of espresso, then the Jura ENA Micro 5 is simply but effective. If you want espresso as well as the ability to froth milk then Delonghi Diminica is a great option. However, if you really love your coffee, want all the possibilities, and money is no problem, then you might as well go all out and explore the Delonghi Prima Donna. It has the ability to make almost anything your local café can, which is both tasty and impressive. No matter what your coffee needs are, one of these reliable and well-crafted coffee makers will be able to help.