Savoring a good cup of espresso has become one of our daily rituals to give us a boost of energy, to take a break from our work, or to get our ideas back in order and focus on something new.
A retro-style machine that many have fallen in love with is the Cafelat Robot. This robot comes with a lot of promises and, according to the brand, it offers amazing espresso extractions. But does it live up to expectations? How much can it do as a "robot"? What coffee type and method does it use? How easy to use and clean is it? What is the quality of the coffee it brews? In this Cafelat Robot review, we'll put the coffee maker into its paces and let you know if it's worth investing in.
Specifications
Type
Manual lever espresso machine
Material
Stainless steel, aluminum, FDA approved silicone
Cafelat Robot Design
First, we'll try to know more about the Cafelat Robot's design: from its type to the materials used, the items includes in the purchase, and the brain behind the coffee maker.
What is Cafelat Robot?
Indeed, the Cafelat Robot is a high-quality manual lever coffee maker that produces real espresso. Using pre-ground coffee and operating under 6 to 9 bars of pressure, the Cafelat Robot will amaze your taste buds.
The Design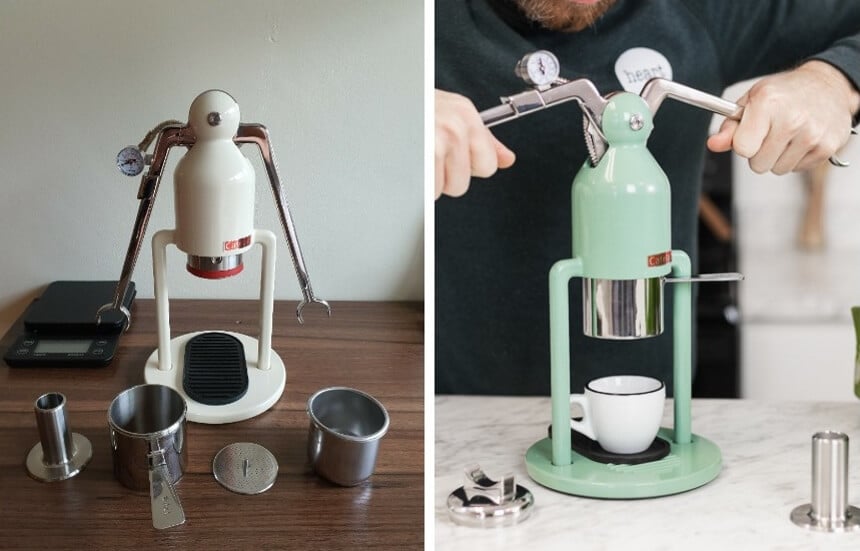 It is a robot with few parts and no complicated electronics. It's made of only top-quality materials like stainless steel and above all completely plastic-free. The espresso maker is designed in 5 color options: retro green, creamy white, red, blue, and matt black.
However, the levers aren't that ergonomic and are awkward to hold and press for extended periods. The portafilter itself has no tactile feel when locking it into place and it even feels slightly loose and wobbly. Once fully torqued, the pressure gauge on the Barista version faces straight forward which seem a bit difficult to watch and utilize during your shot. But these are not a deal breaker.
Its footprint is compact, and it's easily moved and stored when counter space is at a premium.
Having this true portafilter also makes cleaning and making multiple shots so much easier and this is often a huge slowdown factor when it comes to other manual machines.
The Brain Behind the Robot
We need to talk about one man; Paul Pratt, the technician and founder of the Cafelat brand, who designed the robot. He was a technician for La Marzocco for several years and he has a great collection of espresso machines. He's very knowledgeable on the espresso side and this one is built by hand by him. So, this is a one-man show espresso maker!
The brand has a revolutionary line of products designed exclusively for the coffee market. Each product has been developed from the need of the end-user (mostly seasoned baristas), without compromise and with great attention to detail. Their function is as fabulous as their appearance!
Professionally, Cafelat seeks to design new innovative products. A complete line of products with top-quality materials, production techniques, and important quality controls.
Paul Pratt has gotten involved in many aspects of the coffee industry since 1995, where he began as a barista. In 2008, he created the Cafelat brand with the help of partners.
What makes the machine so special, as you can see, is that its design is unique and it's aesthetic to have a robot like this. It looks like a real robot. It has two arms; most of the lever-style espresso robots (such as the Rok Espresso Maker) have only one arm but this has two arms. However, it's not as well-engineered as other AI coffee robots such as those from Cafe X and Orion Star.
The machine came after, some time ago, when Paul Pratt started to develop a small currentless lever machine, which is practically a new edition of the Faema Baby Trusted Source A Unique Lever Espresso machine (maker)- Faema Baby Faemina - Blackout Coffee Co /files/u16346/10168dsc00487_1.jpg" width="375" height="500" />   Ever since I got my first lever La Peppina, I have been enchanted by the uniqueness of lever espresso machine. I don't think i have experienced the "zen" thing when using these lever espresso machines, but they're sure a pleasure to use. In addition, t www.blackoutcoffee.com from the late 1950s. The machine was named "robot" because of its appearance.
There are two versions: the Regular version and the "Barista" version with a pressure gauge.
Paul seems to have got the production started and ironed out all the problems and finally decided to use Kickstarter. The Regular version can be upgraded later with a pressure gauge.
Materials Used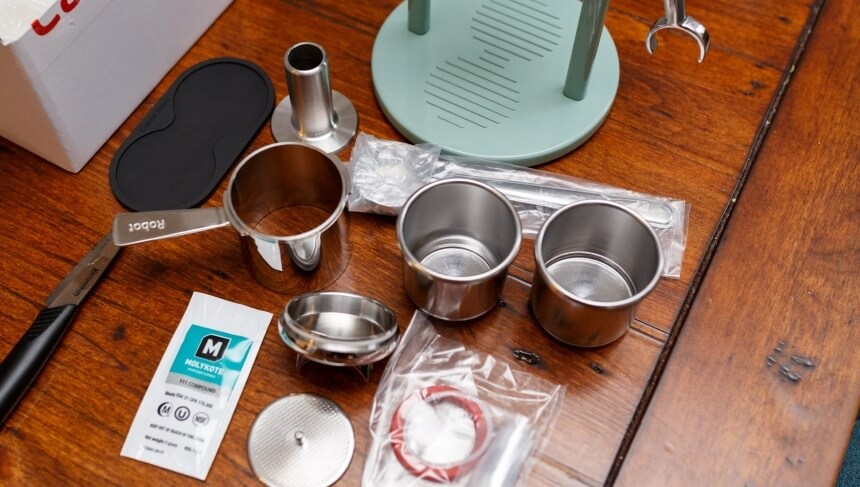 The Cafelat robot includes materials such as stainless steel, aluminum, and FDA-approved silicone.
The aesthetics of the Cafelat Robot are complemented by an all-steel filter with removable spouts. There is a cleverly designed basket and piston system and a pressure gauge on the Barista version that will allow you to control the pressure at which you pour your espresso.
Thanks to the removable spouts, you can easily divide your extraction into two cups. It is therefore one of the easiest manual robots to use and maintain.
There's a lot to like about the cafe lot robot. The first thing we noticed is a distinct lack of plastic. There is not one plastic piece on the machine itself. The fit and finish are also very great. Everything feels very sturdy. This is massively important with a mechanism that you're going to be up close with as it creates up to 9 bars or 131 pounds per square inch of pressure. Having the confidence it won't blow up in your face makes the experience of making espresso much more enjoyable.
What Is Included
Included with the Cafelat robot is a black silicone drip mat that you can use to put your glass on it. So it's better for cleaning. And there is a tamper inside the box which is great. It's a steal-made tamper. Also included is a 58-millimeter steel-brew basket which is similar to the ones found in commercial espresso machines but this time it's a bit deeper and longer. This is where the magic happens.
In addition, there is the portafilter where you put your basket inside it and use it with the robot. The portafilter has detachable spouts.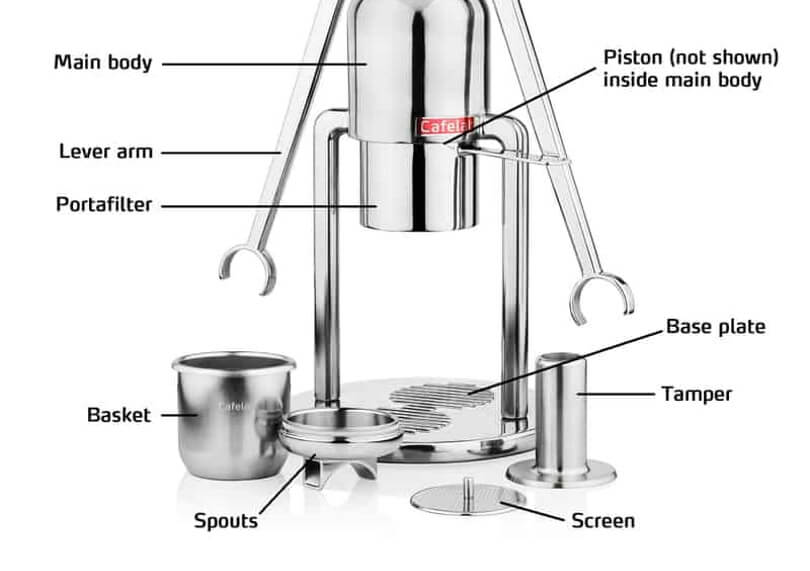 Other items are spare parts includes in the package. These are:
The silicone piston seal
Food safe grease
Silicone portafilter spout o-ring
How Does It Work?
As with the Baby (or the ROK), pressure is built up with two levers. The very deep strainer in the portafilter is filled with tamped coffee, shower strainer, and water from the kettle and clamped. Since the water does not come into contact with massive pieces of metal, tedious preheating is saved.
The portafilter is also, typical of Cafelat, with a base that can be screwed off. So, you will have either a two-way outlet or a portafilter.
Easy to use, this original manual process produces a premium espresso, comparable to the best espressos you will find in a coffee shop. A little practice and patience to get the hang of it, and the results will surprise you, it is very rewarding and fun!
The Cafelat robot uses very few parts to make a good espresso. It is made only of stainless steel and food-grade silicone in the seals. It works with the use of a tamper, has a manometer to calculate pressure, as well as a double filter and pressurized filter. You can also add a load divider to put two cups down and get two espressos.
We recommend not using the divider as the extraction is considerably more visually appealing without this optional item.
What Type of Coffee Can You Use?
To make use of the coffee robot, the main thing needed is ground coffee, hot water and you are good to go. The coffee basket can contain up to 25 grams. It can hold approximately 145 mL of both water and ground coffee. The whole process of using the machine is simple and takes just a few minutes. There is no need for a capsule machine and there is less plastic waste.
Is It Only Good for Espresso?
The robot delivers perfect espressos. But not just that. You can use it to make a pure espresso, or you can add water to make an Americano and even milk drinks if you have a milk frother.
However, according to the Home Grounds Trusted Source Cafelat Robot Review - Is This Manual Lever Machine Worth It? Want To Make Top-Notch Espresso At Home Without Dropping Thousands Of Dollars? This Is The Answer! Click Here For Our Cafelat Robot Review. www.homegrounds.co , the only thing you're paying for with this robot is an espresso maker. It lacks other extraneous parts such as the boiler, milk steaming system, pump, and has no electronic controls.
Pressure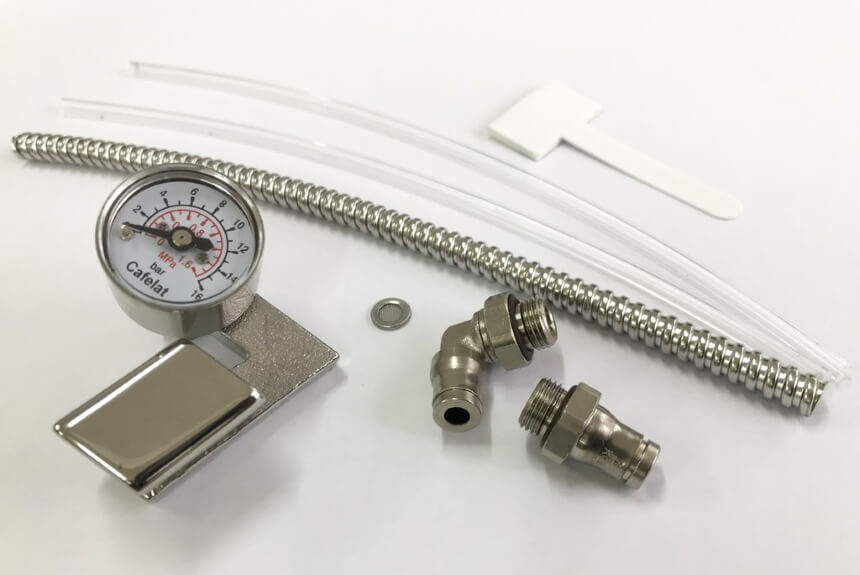 The machine has a pressure gauge on one of the arms where you can read the pressure. It shows the optimum espresso pressure range in red but you don't have to use those levels. The pressure level is between 6 and 7 bars but you can play with it to get to 9 bars of pressure.
Brewing Process
All you need to make coffee with the Cafelat robot is just a little hot water and ground coffee.
Step 1: First, you have to get fresh ground coffee from a coffee grinder such as a hand grinder or an electric grinder. Fresh coffee should be used with the professional filter basket. Start by heating your water to around 95 degrees.
Step 2: Measure and grind approximately 18 to 20 grams of coffee. Your grind should be suitable for espresso, that is, it should have a fine texture and be slightly lumpy.
Step 3: We recommend that you preheat the coffee filter and the basket for the best results, and it is usually sufficient to pour a little hot water through them before brewing the espresso. Add the coffee to the basket, then tamp firmly and evenly.
Step 4: Add the screen on top of the packed coffee.
Step 5: Add hot water directly to the dispersion screen. For a dose of 18 grams, you can use about 60 grams of water to take into account both the desired yield and the water retained by the coffee puck.
Step 6: Insert the basket into the filter holder and prepare your cup. To insert the filter holder into the Robot, you must first raise the arms to lift the plunger. Insert the filter holder with the right handle, and turn the nose left or right to lock it.
Step 7: Begin your extraction by gently lowering the arms. The more force you apply, the higher the pressure gauge will show.
Step 8: Once your extraction is complete, reassemble the lever arms and remove the filter holder.
Step 9: To clean, pat your puck, rinse and wipe the basket and filter holder, and wipe the plunger. Enjoy your delicious espresso!
The Quality of Coffee You Get
The first impression after using the coffee robot, in terms of the coffee quality is that the robot is a jewel. But it needs, if used without preheating the sieve, a slightly darker roasted coffee, a good grinder, and some strength to operate the arms.
The shots produced from the robot are also very nice but they lean more towards density and texture than they do towards acidity and clarity. So depending on what you like, it may or may not fit the bill.
The machine has nothing to do with Flair and we don't think it has anything to do with ROK either. Compared to the Flair espresso maker, the taste is much more balanced and you will find more body. With Flair, many small components had to be handled. Here it's simpler, all the parts are easier to handle.
With a slightly darker roasted coffee, the results were very good. The operation of the arms is acceptable up to 7 bar if you want to look at the manometer. But yes, it involves some effort, but in time, you will probably find the right position.
The Ease of Use
In general, the coffee robot is easy to use. But it's not a perfect machine. Since the baskets are very deep, this means applying pressure is difficult as you can't visually verify what's going on inside. So, it makes it more of a guessing game. However, this issue can get fixed by buying their 70 dollars self-leveling tamper.
Like all hand press espresso machines, heat retention is a major struggle. Warming the basket and portafilter is a must in our opinion but the walls are thin and it drops heat quickly near-boiling water. Through the process, it loses roughly 50 to 70 degrees by the time it ends up in your cup.
However, there's a gap between the basket and the portafilter. This is supposed to help with heat retention and can keep your water temperature. It's a very clever design that makes the robot easy to use for espresso.
After this, you can use the tamper to tamp your coffee. There is also one more part which is the split for the double shots. You may choose not to use this because most people want to see the naked porter filter doing the job.
However, it's tricky to install and remove the portafilter. To do that, you need to move the arms of the robot upwards and put the portafilter in the middle. Put it in the slot and slide it gently to the right. It doesn't seem tight but there is no issue here. When you need to remove it, just move it to the middle and tilt it down a bit to remove it completely. Otherwise, it may be stuck in the piston.
Many people want to know what the temperature levels are when you use the Cafelat robot. The temperature is around 92 degrees celsius which is great because if you warm it up, it will be around 95 degrees celsius.
So, is there anything that can be improved? Yes, the robot is not perfect too. The first thing is, we would have loved the distance between the legs to be a bit wider.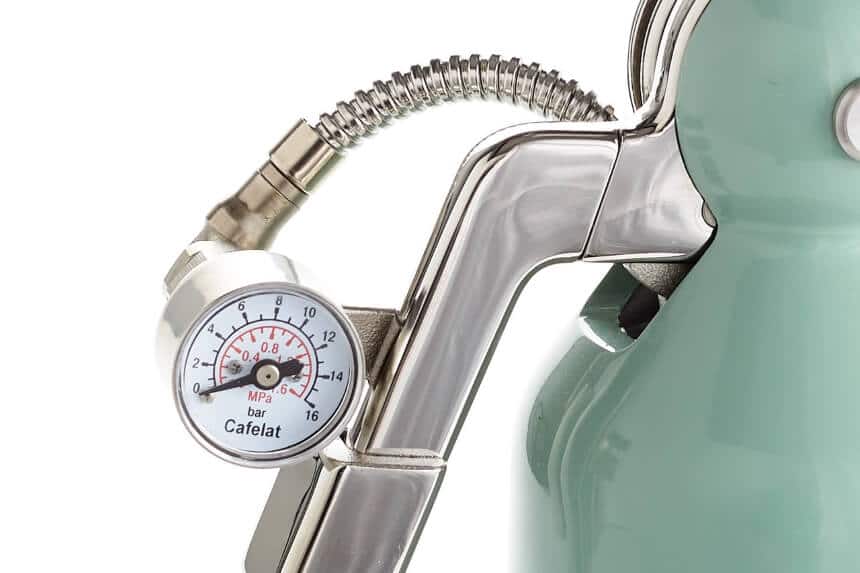 The second one is the pressure gauge is a bit difficult to read. You have to get used to it to read it. You need to lean a bit forward and read the gauge. It's easy to get used to but maybe if they just move the gauge up to 90 degrees, it may be easier to read because when you use the robot, you cannot use it at the chest level. This way, you cannot apply the pressure required. What you need to do is you need to keep it at this level so you can easily apply the pressure.
Besides those, the robot is great and it can do a great job. It can give you perfect shots if you know what you are doing.
Cleaning and Maintenance
Cleaning the Cafelat is quite easy. Just get an empty glass and remove the water. When you hit the bubbling sound or see the bubbles, just stop and remove the portafilter by tilting down and removing.
It has only two removable parts. This facilitates the use, cleaning, and storage of the robot.
An important detail and an advantage over ROK and Flair is that the Robot is much easier to clean and maintain. The coffee debris dissolved faster and you can clean all parts more easily under running water.
With ROK, you get in the habit of taking the sieve out of the silicone. With Flair, you may encounter problems when you try to remove the piston, especially when it's hot.
The Cafelat is easier to maintain (this does not mean that ROK is not cool).
Warranty
Like most Cafelat machines, the robot comes with the usual one-year limited warranty that starts reading from the time of purchase. The manufacturer warranty covers manufacturing defects but Cafelat will have to review and verify each case.
The warranty doesn't cover dents, scratches, or black spots which may mar the components of the device during use or shipping. Like most warranty-covered products, defects coming from improper use for example in commercial environments, natural wear, and tear, and machine misuse are not covered by the warranty. The warranty also doesn't cover the replacement of consumable parts such as the piston seal, filter paper, filter screen, metal sleeve, and the Flexible Tube in the Barista version.
Keep in mind that the warranty doesn't cover shipping costs incurred as a result of the repair needs. What this means is you will have to pay for the shipping fee required for the robot to be taken to the manufacturer and that needed for its return to you. Asides from these, there are no complicated terms.
Price Tag
The Cafelat manual espresso-making machine costs less than $400. As of the time of writing, the Regular version is sold by the Cafelat store for $310 without the shipping fee. The Barista version costs about $60 more. There is no difference in price with the color you choose from. However, it's more expensive than espresso makers of its type. When compared to the Flair espresso maker, the Cafelat robot is about $150 to $50 more expensive, depending on the version.
Key Features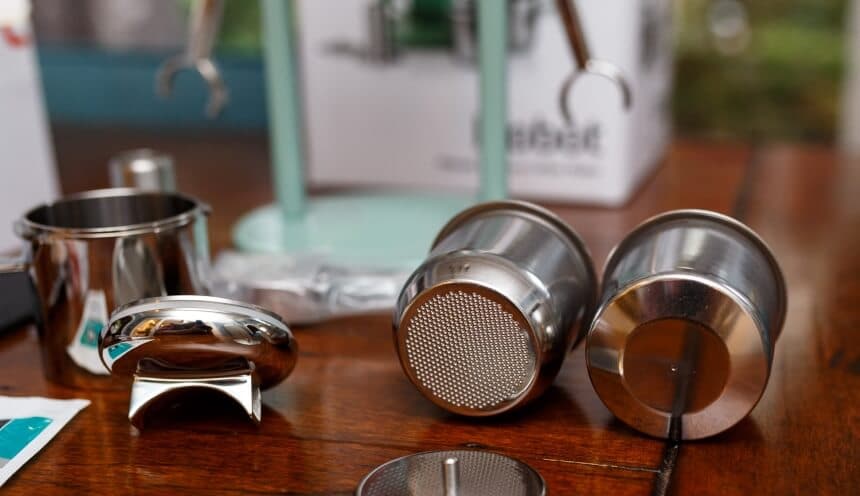 Some of the key features of the Cafelat espresso machine are:
1. Stainless steel filter basket
The robot includes a professional 58 mm stainless steel filter basket as well as a bottomless filter holder just like professional machines.
2. Has only two removable parts
The robot is just a simple two-lever manual espresso-making machine. With just the two removable parts, using, cleaning, and storing the machine is relatively easy. Cleaning the robot is super easy. You can rinse all the parts under running water.
3. Made of stainless steel and aluminum
The machine consists of materials that ensure extended durability. Stainless steel and aluminum hardly wear out and last for years.
4. Works with 6 to 9 pressure bars
The robot handles the perfect flow and extraction, pressing the robot arms to complete your shot. You can brew with 6 to 7 pressure bars. But most users were able to get to 9. This ensures precise extraction under pressure. It is also equipped with a buffer and two spouts to split your shots. It produces thick and creamy espresso.
This is your best model if you want to achieve the ideal double or single espresso, whatever your level of experience in brewing coffee.
Would This Coffee Maker Be Right for You?
If you are a fan of well-made espresso at home or in the office. This will be a good buy for you if you are tired of using machines that give you bland coffee and want a robot that will last you over time. Just go ahead and choose the Cafelat robot.
PROS
CONS

The machine doesn't use electricity
It's simple to clean
Gasket made of food-grade silicone
It's made of durable materials
Has a bottomless filter holder that is used for best results
Obtainable in five different colors
Available in two versions – Regular and Barista

It's a bit pricey
The filter screen design is fragile
It's not ideal for making lighter roasts
No milk-steaming features
Conclusion
The Cafelat espresso robot is a retro coffee maker. It's a small, manual way to produce espressos at home, inspired not only by its retro look. It's made like the first commercial espresso machines which had no pump. It's the best option for those who love making dark roast espressos.
References
1.
A Unique Lever Espresso machine (maker)- Faema Baby Faemina - Blackout Coffee Co
/files/u16346/10168dsc00487_1.jpg" width="375" height="500" />   Ever since I got my first lever La Peppina, I have been enchanted by the uniqueness of lever espresso machine. I don't think i have experienced the "zen" thing when using these lever espresso machines, but they're sure a pleasure to use. In addition, t
2.
Cafelat Robot Review - Is This Manual Lever Machine Worth It?
Want To Make Top-Notch Espresso At Home Without Dropping Thousands Of Dollars? This Is The Answer! Click Here For Our Cafelat Robot Review.