If you are a caffeine lover that enjoys savoring the full flavors offered by a great cup of drip coffee, you have probably already engaged in the great debate known as washed vs. natural coffee. To comprehend the difference, understand that coffee is technically a cherry fruit, with the bean inside. The process of washing coffee entails the removal of the flesh of the cherry and then a rinse that removes all mucilage that might add chocolate, blueberry, or currant flavors to the brew.
The Kalita Wave line is for people who love the manual process of making their own coffee and want to have complete, almost obsessive control throughout the entire brewing process.  First, you must grind your own beans and then place your special Kalita tissue-thin paper filter in the stainless-steel dripper. You then have to boil water and give it three pours, filling the pour-through three times in three minutes.
Specifications
Material
Stainless steel/phenol resin
Dimensions (in.)
4 x 4 x 2.5
Review
Natural coffee, often called natural processed coffee, entails drying the bean inside of whole fruit, leaving it in contact with the cherry flesh. The contact of the bean with the drying files creates an aromatic brew. Whether removed, rinsed, and dried in the sun or left whole to dry in the shriveling fruit, the bean must be dehydrated to an 11% moisture content level before being shipped, roasted, and brewed.
Why is your choice of beans important when you drip-brew a cup of coffee? It's all about good taste. According to a Forbes article Trusted Source Coffee Got Complicated: Know Your Natural From Your Washed From Your Honey Coffee is getting complicated. www.forbes.com , washed coffee is light with cleaner acidic notes, and naturally dried coffee is heavier and bolder with reminiscent of fruit. During our research for the Kalita Wave below, we have uncovered some information about which drip brewer option might be best for you regardless of which side of the washed vs. natural coffee debate you happen to land on.
The Kalita Wave is the choice of many professional baristas, as it is so versatile and able to brew both washed and naturally processed beans. Kalita is a Japanese company that encourages contact with them should there be any flaw with their product. The line's main claim to fame is the flat bottom brewing geometry. Perhaps the only thing similar on the market is Melita drip coffee pour-throughs. There is never any guesswork, as you can brew the same cup of coffee every day simply by following your own recipe for brewing.
Overall performance and design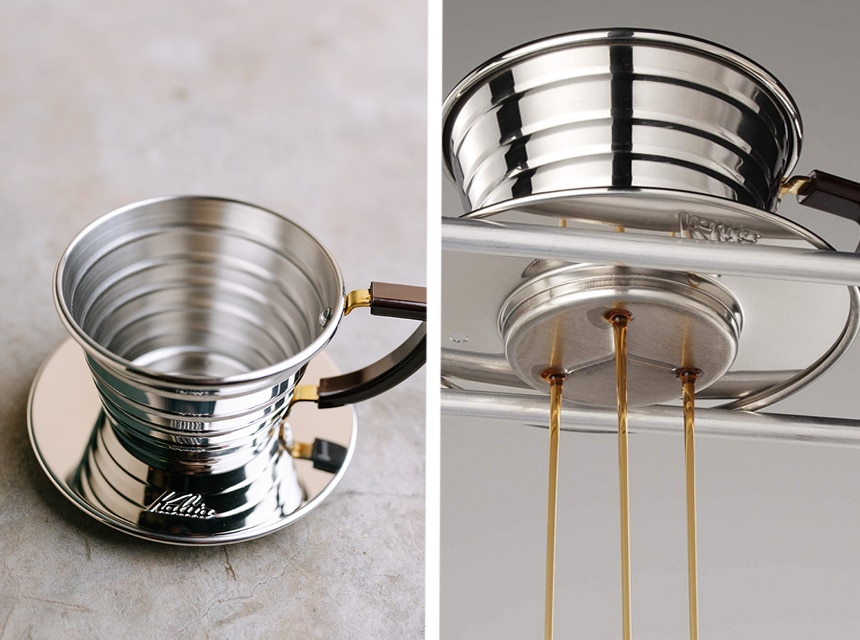 Here is our in-depth look at the Kalita 155, which suits users who do not want the "push button" experience offered by coffee and espresso makers but instead prefer to grind their own beans, pour water, and make it with a hands-on approach is designed to allow you to fill the dripper with boiling water to the top without fear of losing grounds to the brewing bed. It differs from other Kalita Wave pour-through brewers because it is made of stainless steel, not glass.
However, it is also recommended that you pour fast and directly dead center into the brewing bed as the filters are tissue then and can drape down into the brewing bed.
For the most part, this personal brewer gets rave reviews, except there are some complaints about the filters collapsing away from the side of stainless steel sides of the cone.
Capacity
The Kalita Wave 155 capacity is 24 grams of ground coffee. This is great for people who want a super-strong brew. It is recommended that you fill the pour-through brewer up to the top 3 times at intervals about a minute apart to optimize flavor.
Item dimensions and weight
This portable coffee filter only weighs 4.4. ounces. Its dimensions are only 10.2×10.2×6.4 cm making it a great choice for those who want to take their own dripper to work, school, or even camping.
Servings
This personal-size dripper is ideal for use by the solo coffee drinker who wants a second cup of coffee. Here there is additional information about the amount of caffeine in one cup of your favorite coffee.
Material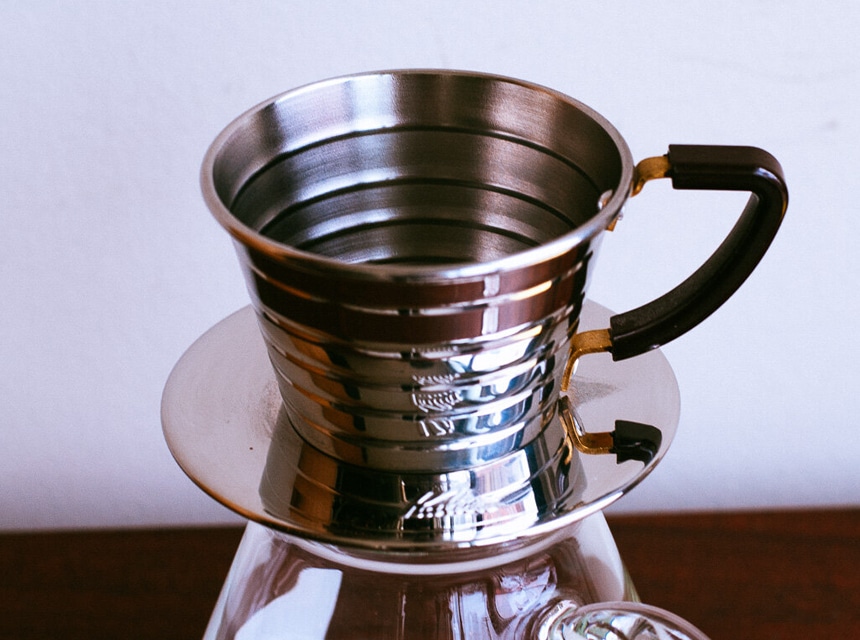 This personal brewer is made of polished stainless steel that retains heat and keeps the boiling water hot as it is poured through the filter and into your waiting vessel. The stainless steel might keep the water hotter for longer as you brew. It is also super easy to clean, durable, and dishwasher safe.
Portability
This unit is so light that it can fit in your purse or a briefcase. It most certainly would fit in a backpack and can easily be removed out of sight from a counter and stowed. It has a handle, making it easy to take the drip brewer to the sink so you can dump out the grounds.
Price tag
Surprisingly, the two-cup Kalita 155 Wave drip brewer is about the same price as the Kalita Wave 185, which can make 4 cups. It is in the $50 – $60.00 range.
Other features
Yet another thing to note is that you can return this pour-through coffee brewer to the company within 30 days as long as you have a receipt.
Here is a stand-alone look at the pros and cons of the Kalita Wave 155. Note that its most significant issue is the thin filters and that all pour-through coffee tends to get quite cold fast.
PROS

CONS

Light and portable at 4oz.
Makes 1 to 2 cups of coffee
Kalita is a trusted Japanese brand
Use with any ground bean

Thin filters awkward to use
Brewed coffee gets cold fast
Which to Choose: the Kalita Wave 155 or 185
When it comes to the Kalita wave 185 vs. 155, it is clear that there is not a lot of difference between the two items, except that one is the perfect two-cup coffee maker and the other is the perfect four-cup coffee maker. They are also identical in price, despite the difference in size. Your main determination for buying either is going to be about how many cups of coffee you want to make at a time. The only other real difference is that the final brewed product might be slightly hotter if brewed from the Kalita Wave 155 as your boiled water spends less time settling into the grounds. The larger 185 might be slightly better if you are brewing a dirtier, more flavorful cup of java from a naturally processed bean that has been dried in-cherry as the water also has more time to sit on the grounds. Otherwise, the Kalita Wave 155 and the Kalita Wave 158 are very efficient, portable, and easily cleaned in the dishwasher.
Final thoughts
Suppose you are obsessed with making your own coffee manually from start to finish and wanting to oversee the entire coffee-making process. Additionally, it would be interesting for you to read about the history and origin of coffee. In that case, either of these two Kalita Wave coffee drippers will work for you as you can control everything from the size of your bean grind to the temperature of your water to the amount of grind you add to the pot.
Basically, it is up to you to boil water, which suits users who do not want the automation offered by coffee machines and espresso makers. You can use any type of ground coffee beans in this unit, both the washed or the naturally processed dry beans.
Ground washed coffee beans, as our recommendation here works great when brewed through a Kalita Wave. Washed coffee beans are a light beige color and resemble split peanuts. If you want a very brisk, light, and clean-tasting coffee, you will want to use this type of bean, which is separated from the coffee cherry, rinsed, and dried out in the sun in parchment paper. If you prefer a much more intense, bold cup with a slightly fruity taste and big aroma, then go for a naturally processed bean like our choice here that has been drained in-cherry to retain the strong fruity taste. Whatever type you choose, both work equally well in a drip coffee brewer because you can fine-tune the grind and taste of the final cup of your java to your exact liking.
We also recommend you buy a cup or carafe to go with it and maybe some type of a cup or carafe warmer as brewed coffee like this can get cold fast. We hope that our Kalita wave review has enlightened you with regards to the many virtues of both models, excluding the fact that the filters are pretty expensive for either model and may not work quite as expected.
References
1.
Coffee Got Complicated: Know Your Natural From Your Washed From Your Honey
Coffee is getting complicated.