CoffeeVibe is reader-supported. We may earn a commission through products purchased using links on this page. Learn more about our process
here
Everyone dreads waking up in the morning which is why you need a cup of coffee to get the day going. A cup of freshly brewed coffee does not just wake you up but also has numerous health benefits Trusted Source 13 Health Benefits of Coffee, Based on Science Coffee is the biggest source of antioxidants in the diet. It has many health benefits, such as improved brain function and a lower risk of serious diseases. www.healthline.com . And there is nothing as good as making some freshly brewed coffee in the comfort of your own kitchen.
Espresso machines can easily be kept in your kitchen as they are easy to use and are very convenient for your daily coffee fix. While there are many coffee machines in the market, the top two contenders are the Verismo vs Nespresso machines.
If you are planning on getting yourself a coffee machine, then you should definitely look into these two brands. This article compares the features provided by the two machines and helps you choose between Verismo and Nespresso.
Quick Overview Table
| | | |
| --- | --- | --- |
| | Nespresso Vertuo Plus | Starbucks Verismo |
| Water Tank Capacity | 40 oz. | 77 oz. |
| Type of Coffee to Use | Pods | Pods |
| Pressure | 19 bar | 19 bar |
| Cup size | 5 oz. or 8 oz. | 10 oz. |
| Control | One-touch push-button | One-touch push-button |
| Wattage | 1,300W | 1,450W |
| Dimensions | 12.8 x 14.1–16.7 x 5.6–9.1 in. | 12.9 x 7.6 x 11 in. |
| Price Range | Around $150 | Around $50 |
| Warranty | 1 year | 1 year |
| | VIEW ON AMAZON | VIEW ON AMAZON |
Nespresso Vertuo Plus: Quick Overview
Paving the way for making espresso more accessible at the comfort of your home, Nespresso coffee machines have made quite a name for themselves. The machine has two different models, including the Vertuoline that comes with the newest features.
The Nespresso Vertuo model consists of the latest centrifugation technology that allows the machine to spin the coffee pods over 7,000 times per minute. With such a great speed, the machine ensures that each coffee pod has been extracted properly for that unique coffee flavor.
Here are the pros and cons of the Nespresso coffee machine: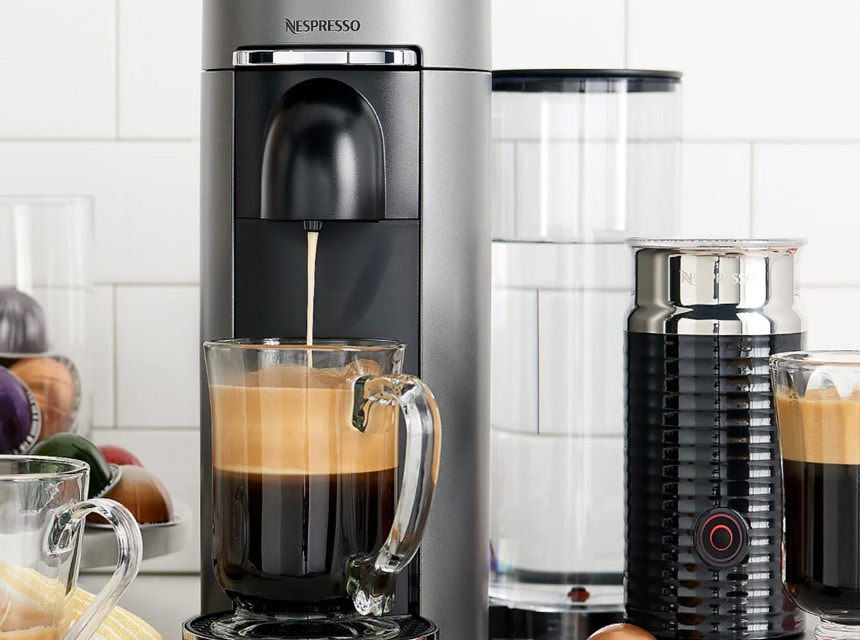 Pros
Provides with perfectly brewed espresso
Compatible with a wide variety of Nespresso coffees
Sleek and stylish design that can look good in any kitchen
User-friendly interface that makes it simple and easy to brew delicious coffee
Recyclable pods that help save cost
Cons
Both the pods and the coffee machine are expensive
Only works with Nespresso pods
The machine can only be used to brew espresso
Starbucks Verismo: Quick Overview
Who does not love Starbucks? If you wish to have Starbucks at your house, then you should consider buying the Starbucks Verismo machine. The great thing about the Verismo machine is that it allows you to choose between espresso, coffee, and even latte, depending upon your pod.
With a dual pressure system, your coffee brewing time gets reduced by quite a deal. The machine is able to auto-adjust its pressure system in accordance with the type of coffee pod that you are using.
Here are some pros and cons for Verismo coffee machine: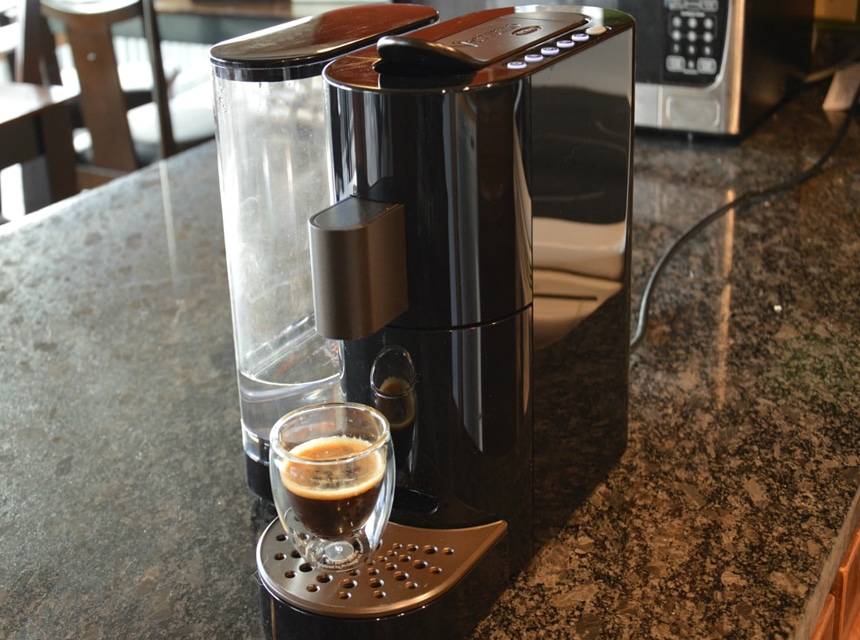 Pros
You can get Starbucks coffee at the comfort of your home
This coffee machine is relatively cheaper than other coffee machines
Features dual pressure brewing system which allows for a quick coffee fix
The new model has a large reservoir
Compact size that can easily fit in your kitchen
Stylish design that can elevate the look of your kitchen
Easy-to-use controls
Cons
The machine is only compatible with the official Starbucks pods which are not only expensive but are limited in variety as well
The pods are not reusable which raises the overall cost
Might not be exactly similar to coffee that you can get from the actual Starbucks stores
Nespresso vs. Verismo: The Difference
While buying a coffee machine, there are many things that you should consider. Here is the difference between Nespresso vs Verismo machine when it comes to these features:
The Quality of Coffee You Get
Every coffee snob knows that every coffee type has its unique taste. Depending upon your preference, you can get different types of coffee for your coffee machines.
Verismo coffee usually consists of grounded Arabica coffee, which is extremely flavorful. The coffee is high in quality and has its own fanbase.
On the other hand, Nespresso offers a wide range of coffee types that include Fortissio Lungo, Roma, Rosabaya, Brazilian and much more. All the coffee flavors are unique in terms of taste and smell. With many options, you can get any quality of coffee that you prefer.
Ease of Use
When it comes to these machines, coffee making becomes such an easy process. These machines have been built with ease of use in their design. Instead of the tedious process of measuring and grinding your coffee, these machines make coffee making so easy. The machines help save your time so you can get your freshly brewed cup of coffee ready in the morning.
With both the Nespresso and Verismo machine, you only need to place in your pods and start the machines. Both machines have user-friendly interfaces that are simple and easy to use.
Ease of Maintenance
Espresso machines need to be cleaned up regularly so that they are able to work smoothly. Regular cleaning also helps ensure that the coffee remains flavorful as well.
Lucky for you, both the machines have a self-cleanout feature that makes sure that the machines clean up easily. The cleanup feature circulates water through the machine to make sure that all residue is removed. This feature can be run after every brew.
The only difference between the two machines is that the cleaning feature on Verismo is much simpler than the one on Nespresso. With one button cleanup, Verismo machines are easier to maintain as well.
However, both machines do require constant descaling. You would need to get cleaning products for deep cleansing as well.
Capacity
The capacity of the water reservoir for any coffee machine is extremely important. The capacity determines the amount of coffee that your machine can brew in one go. Ideally, you would want a sufficient amount of water capacity so that it can meet your coffee needs.
In terms of capacity, the newer Verismo models offer a larger volume of reservoir, i.e., it can contain 78 ounces of water. On the other hand, the Nespresso machines lag behind in terms of water capacity. Most machines have a water capacity between 23 ounces to 33 ounces. However, if you are looking for a Nespresso machine with greater capacity, you should consider the Vertuo plus.
When it comes to pod collection containers, both machines have one. Nespresso has a larger collection container that can contain up to fourteen capsules after they have been used. In comparison, Verismo has a much smaller tray which can only hold 10 pods after use.
Durability and Warranty
When it comes to durability, both the coffee machines are extremely reliable. Both of the machines are built well with a properly streamlined structure. Their plastic built with metal finish allows them to withstand any kind of damage.
Not only that, but the brands offer a great time period for the warranty. In case of Nespresso machines, you can avail the warranty for 1 to 2 years, depending on the model. On the other hand, Verismo machines offer 1 year warranty.
Price
Both Verismo and Nespresso are renowned coffee brands which means that both the machines are not cheap. If we put these machines into comparison, you will find that Verismo is comparatively less expensive than the Nespresso machine.
However, given the amount of features both the machines offer, one can say that they are worth the investment.
Compatibility with Pods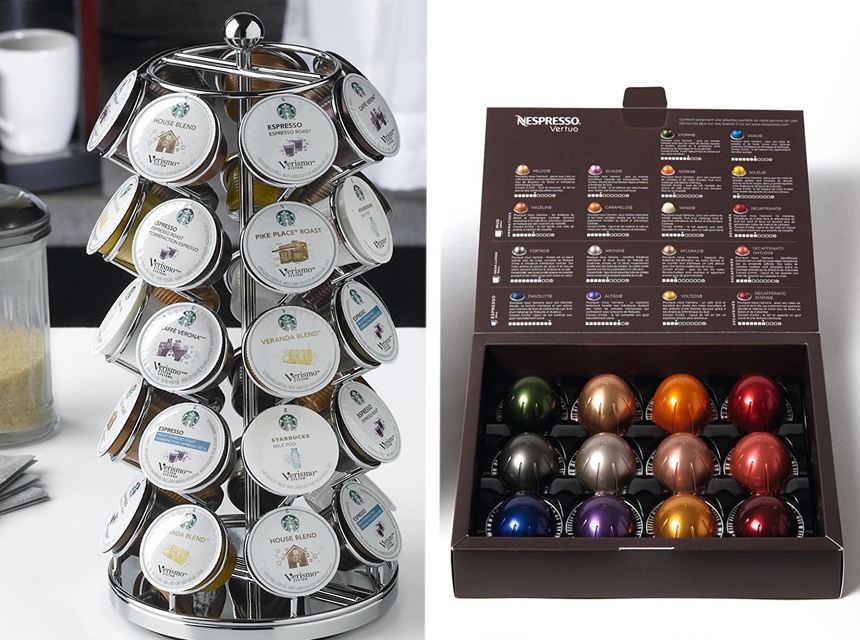 Your coffee machine is nothing without the coffee pods. When it comes to coffee pods, there are many things that you should consider before buying one. One such factor that you should especially look into is the coffee pods compatibility with the coffee machines.
For the Verismo machine, only the Starbucks pods are compatible. You can find many options for the pods, which can include house blend pods, roasted blonde espresso pods, Kenyan pods, as well as an option for decaf pods. However, Starbuck Verismo line of products has officially been discontinued which means that the pods are not as readily available as you would have wanted. You would need to look for online retailers or proper distribution networks. Not only that, but the Verismo pods are also extremely expensive and can not be recycled which can increase the overall cost for the machine.
In the case of the Nespresso machine, the pods can be found quite easily. This means that you do not have to restrict yourself to one brand or type of coffee. In fact, the pods can also be recycled and refilled with new coffee grounds, which can help you save a lot of money.
So, Which to Choose?
Now that all the features and qualities of both the machines have been listed above, your choice of machine should be clear to you now.
If you are someone who is an espresso snob and really loves to drink it, then you should opt for the Nespresso machine. Nespresso offers you with options to drink high-quality coffee that is flavorful. Not only that, but the machine itself has many useful features that can result in a great experience.
However, if you are someone who is obsessed with Starbucks and wants to have it at the ease of their house, then you should definitely opt for the Verismo coffee machine. While it may not be exactly the same as Starbucks, you can easily brew something similar at home.
Final Thoughts
After the entire Verismo vs Nespresso debate, you can easily see which machine has the better features and which of these features work the best for you. This guide covers all the main aspects that should influence your decision when it comes to buying a coffee machine.
Both the machines have their unique selling points, which is why you should consider the machine in accordance with your needs.
References
1.
13 Health Benefits of Coffee, Based on Science
Coffee is the biggest source of antioxidants in the diet. It has many health benefits, such as improved brain function and a lower risk of serious diseases.