CoffeeVibe is reader-supported. We may earn a commission through products purchased using links on this page. Learn more about our process
here
If you are someone who wants their caffeine fix immediately, then a single cup coffee maker should be a consideration. By using pre-made pods, you can pop one in the machine, select your settings, and in just a minute or two savor the delicious taste.
Those searching for a new coffee maker may be confused between the Vertuo Next vs VertuoPlus. Both are made by Nespresso but their build is similar and it can be hard to know just what their different purposes are. In this review we'll break down the two coffee makers, discuss their abilities, and hopefully help you decide which is best for your caffeine needs.
Quick Comparison
Starting in 1986, Nespresso has continued to be an innovative force in the world of coffee makers. They understand the popularity of coffee and espresso and while their machines can be a bit pricey, they aim to offer the same standards as you would find at a coffee shop.
Coffee pods, single-use servings of coffee Trusted Source Coffee Pods, An Instant Classic | Arts & Culture | Smithsonian Magazine Single-serving coffee pods are the most recent form of instant coffee. Its history is much shorter than the espresso shot, though just as inventive www.smithsonianmag.com were created in the 1990s but didn't rise to prominence until the early 2000s. Since then, Nespresso has been a leader in the industry and you can find hundreds of flavors.
Two products that Nespresso has created are the Vertuo Next and the VertuoPlus. Both are part of the Vertuo line and are made to be used with their coffee pods. The Vertuo Next is better for all-around cups of coffee while the VertuoPlus has put espresso as its star drink.
Popular models comparison
Vertuo Next
VertuoPlus
Water Tank Capacity
37 oz
60 oz
Type of Coffee to Use
Nespresso Vertuo capsules
Nespresso Vertuo capsules
Cup size
5, 8, 14, 18 oz
1.35, 2.7, 5, 7.7 oz
Capsule container capacity
7
10
Dimensions
16.9 x 5.5 x 12.4 in
12.8 x 16.7 x 9.1 in
Weight
8.8 lbs
10 lbs
Warranty
2 years limited
2 years limited
VIEW ON AMAZON
VIEW ON AMAZON
VIEW ON 1STINCOFFEE
Closer Look at Vertuo Next
If you love your coffee and love the choice Nespresso offers, then The Vertuo Next is a product to consider. This machine is all about brewing a good cup off coffee, which you can do thanks to the many coffee pods you can choose from.
The Vertuo Next is quite stylish and you can choose from five colors including red, black, white, grey, and silver. However, these colors are only found on part of the machine while the rest is in a black color.
Pros
The Vertuo Next is very easy to use and will allow you to have a simple cup of color. It has many cup size options including an impressive 18 ounces. You can brew one cup of coffee to sip at or fill your travel mug when you need to keep warm at a soccer game.
Cons
While the Vertuo Next does good coffee, it does not allow you to make more elaborate choices, such as espresso. The smallest cup size is 5 ounces, so a shot to wake you up is not available.
It is also a bit bulky and may take up more space than you would like on the counter.
Closer Look at VertuoPlus
Newly designed, the VertuoPlus has been made to give your kitchen a touch of sophistication. It can brew a cup of coffee quite nicely but is also a great choice if you love a shot of espresso. Its two smallest cup sizes are 1.35 and 2.7 ounces, which means you can easily pick if you want one or two shots of espresso.
Pros
The Vertuo Plus may not have a lot of options but what it does offer, it does well. One feature that really stands out is its movable water tank. You can keep it at the back or you can slide it to the side, depending on how you want to set it up on your kitchen counter.
Cons
The VertuoPlus is a coffee maker you want if you love espresso and single cups of coffee but it is not a good option if you want lots of coffee. This is not a machine that is interested in brewing half a pot for your travel mug.
Furthermore, while it does look stylish in its black color design, there are no other options, which is a bit of a letdown, especially because color choices are offered with the Vertuo Next.
Difference Between Nespresso Vertuo Next and VertuoPlus
Let's look at what separates the two coffee makers.
Pod compatibility
Both the Vertuo Next and the VertuoPlus use Nespresso pods. However, because there are so many Nespresso products, there are multiple lines of pods.
You will need to find pods that belong to the Vertuo Coffee line. However, there are many flavors you can choose from this collection.
In addition to traditional coffee flavors, you can also select espresso options as well as special holiday flavors.
Brewing time
Thankfully, you won't have to wait long for either the Vertuo Next or the VertuoPlus. Both offer brewing times in under two minutes. As they both use Nespresso pods, it's simple to pop one in and let the machine take over in a short time.
Cup size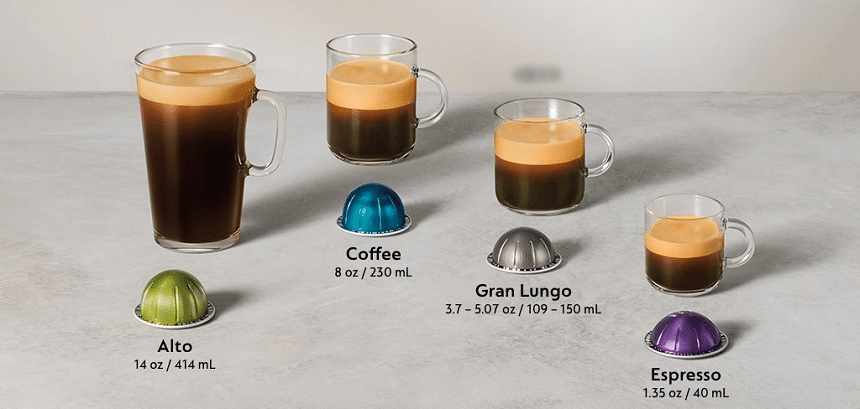 Everyone likes a different cup size of coffee. Some are content with a small cup with their breakfast while others may want to stock up to get through their morning commute to work.
The Vertuo Next offers four different cup size options, including 5, 8, 14, and 18 ounces. This is a very large range and you can definitely fill up your travel mug.
In contrast, the VertuoPlus is all about small cups. Although it also offers four sizes, these are quite petite and feature 1.5, 2.7, 5, and 7.7 ounces. As you may gather from these sizes, the VertuoPlus is more about espresso and cups of coffee rather than volume.
If you want a machine that can craft your favorite espresso, then the Nespresso VertuoPlus is a must-have.
Water tank capacity
Overall, the water tanks on both coffee makers are pretty decent. However, the VertuoPlus really shines in this category. While the Next offers a water tank capacity of 37 ounces, the Plus allows for a capacity of 60 ounces.
While a larger water tank is probably not a deal breaker, if you are someone who hates dealing with chores, it's nice not to have to constantly refill your water tank.
Ease of use
Both the Nespresso Vertuo Next and the Nespresso VertuoPlus have controls that are easy to navigate. Neither is a complicated machine and because there aren't a lot of choices, you simply have to press a few buttons and you can quickly have your cup of coffee.
One difference, however, is that the Vertuo Next can be paired with Bluetooth or Wi-Fi. While you can't control the machine, at least not yet, this technology ensures that if there are any system updates, they are quickly installed in the machine.
Dimensions and weight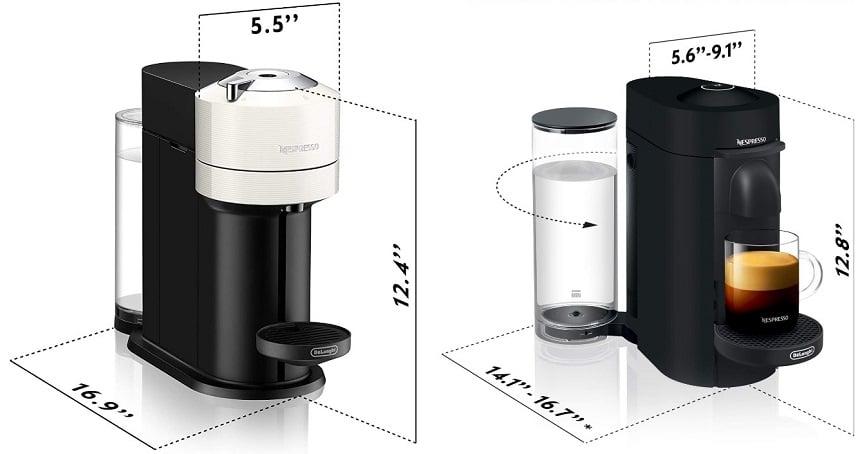 Interestingly, the dimensions of the Vertuo Next and the Vertuo Plus are quite a bit different. While the Next measures 16.9 by 5.5 by 12.4 inches, the Plus measures 12.8 by 16.7 by 9.1 inches. Still, both are slim enough to fit on a kitchen counter and will easily fit underneath cabinets.
As for weight, they are similar although the VertuoPlus weighs a bit more, at 10 pounds, while the Vertuo Next weighs 8.8 pounds. Both devices, however, are light enough that a single person can carry them around the kitchen with ease.
One highlight of the VertuoPlus is that the water tank can actually swivel. You can then move the water tank to make space on the counter and position the coffee maker how you best want it to be.
Durability and warranty
Because both the Vertuo Next and the VertuoPlus are manufactured by Nespresso, they offer the same two-year warranty. This is actually quite nice as many coffee makers only offer a one-year warranty.
As for durability, they are made to the highest standards. Nespresso is one of the largest manufacturers of coffee makers. They are so popular, even George Clooney Trusted Source George Clooney and other friends of Nespresso reveal the deep human care behind every cup of the brand's coffee Nespresso's latest campaign explores how caring for farmers and the environment results in high-quality coffee and can be a catalyst for positive change www.prnewswire.com was once the advertising face of the company.
All this publicity means that Nespresso has no choice but to craft their products with care and precision. You can expect either coffee maker to last for quite a long time.
Prices
Neither the Vertuo Next nor the VertuoPlus are cheap coffee makers. While they are not the most expensive on the market, both retail above $200. The VertuoPlus is the more expensive option, coming in around $250.
While the good news is that there are usually online sales for both models, you can expect to pay a bit of a premium for either machine.
In conclusion
There's a lot that happens in the morning and being stressed out about your coffee shouldn't be one of those things. With the right coffee maker, you can know with assurance that your caffeine needs will be fully met. Overall, if you just want a good cup of coffee, or possibly a very large one, the Nespresso Vertuo Next is the better option. On the other hand, if you want to savor a well-rounded shot of espresso, then the Nespresso VertuoPlus will satisfy your cravings. We hope you now have more knowledge when it comes to Vertuo Next vs VertuoPlus and which one will make your mornings that much easier.
References
1.
Coffee Pods, An Instant Classic | Arts & Culture | Smithsonian Magazine
Single-serving coffee pods are the most recent form of instant coffee. Its history is much shorter than the espresso shot, though just as inventive
2.
George Clooney and other friends of Nespresso reveal the deep human care behind every cup of the brand
Nespresso's latest campaign explores how caring for farmers and the environment results in high-quality coffee and can be a catalyst for positive change