Many of us enjoy a cup of coffee, but don't always have the time to sit down and enjoy it. If you find that you drink your coffee on the go, you'll need a reliable reusable coffee cup. In this KeepCup review, we'll explore this reusable coffee cup line to help you make an informed purchase decision.
Specifications
Materials
Tempered glass, cork, food grade plastic
Lid colors
Black, almond, spruce, alder, saskatoon, filter, press, egg
Review
If you're looking to lead a greener life and maybe save a little cash, a KeepCup could be a great solution for coffee lovers. Whether you want to brew coffee at home or enjoy a discount at your local Starbucks, having a reusable coffee cup is a superb way to reduce your carbon footprint. Of course, choosing a reusable cup can be tricky, so in this Keepcup glass reusable cups review we'll explore the features and functionality of this stylish cup.
Overall performance
The KeepCup is a popular choice and with its eco-friendly philosophy, but it is not perfect. It has a band to protect your hands from holding a hot cup, but the lid is not totally splash proof. What makes the KeepCup really stand apart from the competition is that you can purchase new replacement components. So, if your cup suffers some damage, you don't need to buy an entirely new one and throw your old one in the trash.
Design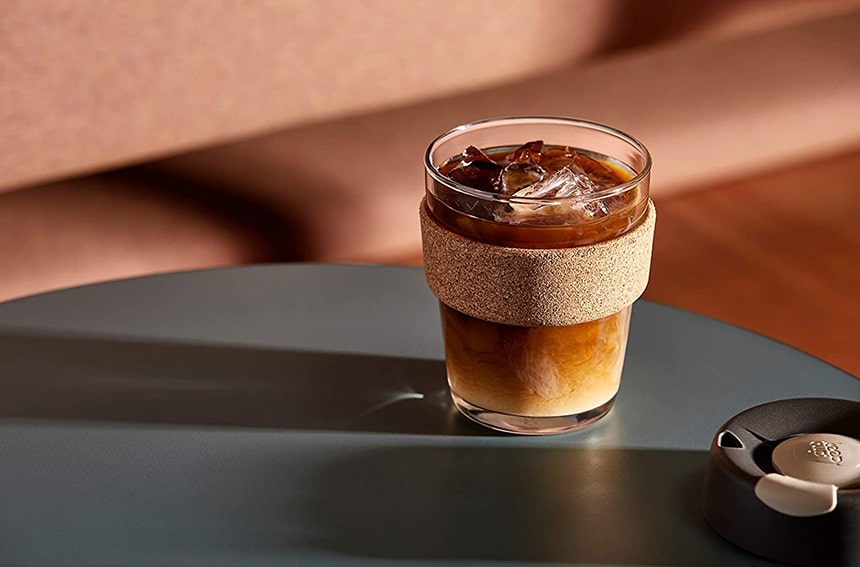 Although a conventional thermos cup can do a great job at keeping your coffee or hot beverage warm, they are often bulky and unattractive. This is where the KeepCup stands apart. The design of the KeepCup line has made this product a popular choice with celebrities, influencers and the fashion conscious.
The KeepCup, with its signature cork or plastic band looks stylish and it has a BPA free plastic lid that is relatively splash and leak proof. However, it is not really a good idea to stash the cup in your bag if you are concerned about drips and splashes of coffee damaging your belongings and making a mess.
The lid has a drinking hole that is large enough to allow some heat to escape and enjoy the coffee aroma. Many of us have tried using reusable coffee cups and find the drinking hole makes the coffee feel scalding hot on the lips. But, as it is a sufficient size, you can comfortably drink your coffee even if it's just out of the pot.
Construction materials
You may be aware that disposable coffee cups are a massive pollution problem. It is estimated that 16 billion disposable coffee cups are used each year and each of these cups contains plastic to laminate the inner surface. This is a massive amount of plastic, so even choosing the basic plastic KeepCup will be a more eco-friendly choice. However, you can choose KeepCup options made with toughened glass or stainless steel.
While glass may seem like a fragile option for a cup you will carry around with you, this is not particularly a worry with KeepCups. The glass options are made with tempered glass that can withstand high temperatures and is shock resistant.
There is also the signature recycled cork band that is heat resistant and makes it easy to hold a KeepCup full of hot liquid. The band is also available in plastic. Both the plastic cup and band are BPA and BPS free.
Capacity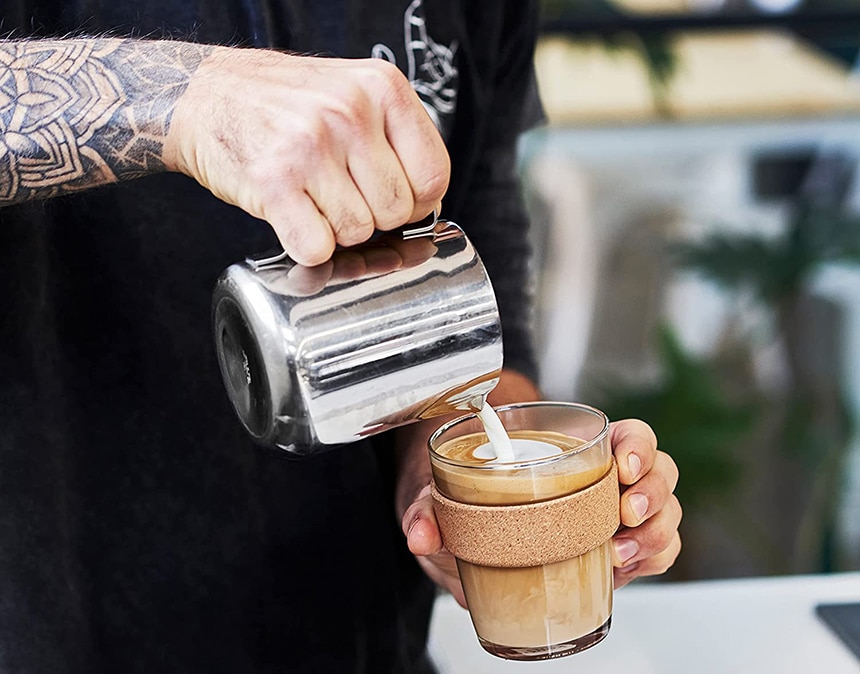 One of the great things we found during this KeepCup brew cork review was that KeepCups are available in a variety of sizes. The size options vary from four ounces to 16 ounces, which means that you can choose a cup to suit your drink preferences. If you need a tall latte to get through your morning, obviously the larger size will be your best option, but if you prefer smaller drinks, you won't be encumbered with a large cup.
Insulation
Unfortunately, the insulation in KeepCups is not the best. While there are reusable coffee cups that can keep your drink hot for hours, this is not the case with the KeepCup. Whether you choose the plastic version or opt for glass, you can expect to keep your coffee warm for approximately an hour. This should be sufficient for your commute to work, but not if you like to linger on your beverage.
KeepCups are only really ideal if you like to drink your coffee on the go straight away. However, there is a newer thermal stainless steel design that can keep your drinks warm for longer.
Just bear in mind that the stainless steel is not as chic as the glass version and it can be a little vulnerable to scratches.
Durability
Despite being made of tempered glass, the original KeepCup is actually quite durable. While it may not stand up to being smashed on the floor, it is quite shock resistant. The plastic models are obviously more durable, but they are not quite as stylish, and as we've touched on above the stainless steel models can get a little scratched if you're not careful.
However, one thing to bear in mind is that if you lose or damage some parts of your KeepCup, you can replace them. You don't need to go to the expense of buying a completely new cup, as you can purchase the individual spare parts, due to the KeepCup sustainability policy. This means that KeepCups are designed to last for years and minimize waste.
Dimensions and weight
One of the main disadvantages of reusable coffee cups is that they can be a little bulky. Some are even a little weighty before you fill them. This is not the case with the KeepCup. Even if you opt for the largest size, the cup itself weighs only a couple of ounces empty.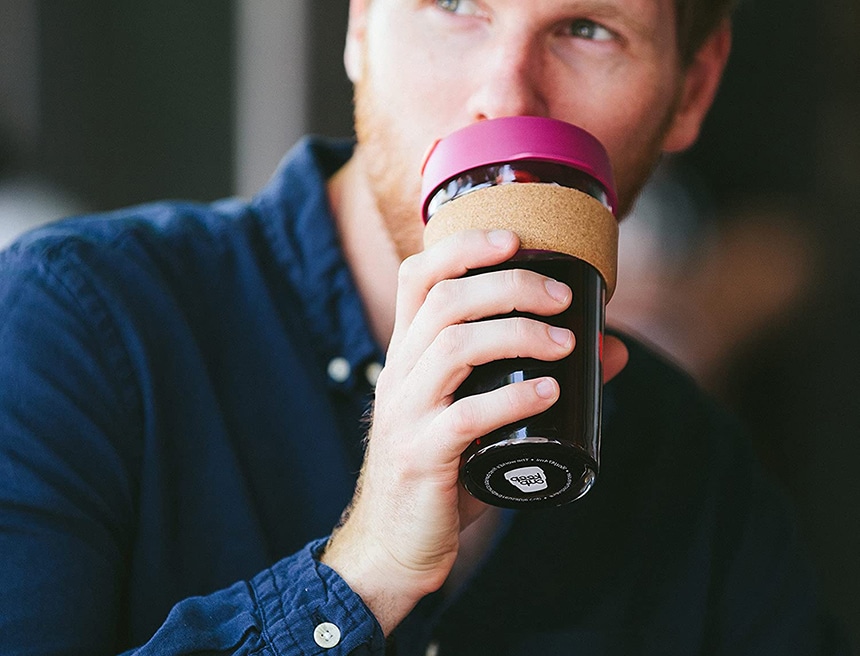 Another great aspect of the dimensions is that KeepCups are designed to fit into most standard cupholders, which can be a problem with many reusable cups. So, whether you're in the car or on the go, you can keep your KeepCup secure.
Warranty
KeepCup offers products with a 12-month warranty from the date of your delivery. This covers any workmanship or material defects. If there is a defect with the item or a product component, KeepCup will replace it free of charge including delivery, providing you submit evidence of the defect.
The warranty will not cover any fair wear and tear, but accidental glass breakage and cork band issues are covered for 30 days from your purchase date.
In order for your claim to be recognized, you need to notify KeepCup immediately and provide your receipt number or order number as your proof of purchase.
Price tag
While the KeepCup is not the cheapest option, it is certainly not the most expensive reusable coffee cup. The price will depend on whether you choose plastic, glass or stainless steel, but all options offer a nice design, great functionality and good ease of use. So, if you are looking for a reusable coffee cup, the KeepCup is worthy of consideration.
PROS
CONS
●       Stylish aesthetics

●       Easy open lid that clicks into place when not in use to minimize splashes.

●       Compatible with standard cupholders

●       Replacement parts available

●       Insulation is a little lacking, so it will not keep your beverage warm for hours.

●       Not dishwasher safe
FAQ
How Can You Remove Smells or Stains?
New cups can have a plastic like smell when they are straight out of the box, but this is due to being sealed in the packaging. You can eliminate this odor by washing your cup thoroughly before its first use.
If your KeepCup becomes stained or develops a lingering smell from a particular drink, you can use a lemon soak or vinegar and baking soda to correct the problem.
Lemon soaking requires cutting up a fresh lemon into slices and placing them into the cup with boiling water. Allow the mixture to soak in the cup overnight. In the morning, empty and rinse before washing with warm water and mild detergent.
For more stubborn odors or stains, use the vinegar and baking soda method. Pour a ¼ cup of baking soda into your cup and then fill it approximately halfway with white vinegar. Fill to the top of the cup with hot water and allow the mixture to rest for 15 to 20 minutes. After this time, empty and rinse out. If a smell of vinegar is lingering, don't worry, it will dissipate. Simply leave the lid off the cup for an hour or two.
If there are stains on the exterior of your KeepCup, you can use baking soda to cover the affected area. Allow a baking soda and lemon juice mixture to sit on the cup for approximately 24 hours. It will dry out and then you can rinse and wash the cup.
What Can I Do if the Cork Band Breaks?
Cork is naturally a little delicate, so it will have a limited lifespan. Color variations will occur over time, but if your cork band becomes damaged it will need to be replaced. If the band is damaged within the first 30 days after purchase, it is covered by your warranty. After this time, you will need to purchase a new band.
You can prolong the lifespan of your cork band by washing it by hand and avoid excessive removals from the cup. If the band does become waterlogged, slip it off the cup and allow it to dry naturally in a sunny spot. Try to avoid excessive handling of the band if it is wet, as it will be weakened, so dry thoroughly before your next use.
Conclusion
Hopefully, this KeepCup review has highlighted that this is a decent reusable coffee cup. The product line includes different material options in different sizes, so you can find a cup that suits your preferences and needs.
While the KeepCup is not perfect, as it does have some potential leak issues, the company has a solid philosophy for being eco-friendly that allows you to buy replacement parts if you damage your cup, prolonging the lifespan of the cup and making your habits greener.