What could be better than waking up to the most delicious exotic coffee packaged neatly at your doorstep? Only an exceptional coffee subscription and delivery service would guarantee you the pleasure. The Driftaway coffee subscription has been on the spotlight for quite a while. The Brooklyn-based roaster has been offering personalized coffee subscriptions since 2014. They are a popular choice for extra-picky coffee lovers because they learn a recipient's preferences. They roast small-batch, single origin coffees and deliver them within 6 hours of roasting.
Driftaway believe that coffee is subjective. Therefore, they offer tasting kits with profiles ranging in roasts and origins. The sampler kits are meant to determine future shipments based on your preferences. A typical 3-month Driftaway coffee subscription incudes an 8-ounce tasting kit and two deliveries of 7-ounce packages that anyone can enjoy. Read our Driftaway coffee subscription review to find out if it lives up to the hype.
Specifications
Shipping location
US, worldwide
Price per ounce
$1.06 to $34
Shipping frequency
Weekly, every two weeks, monthly
Shipping time
2 – 3 business days
Shipping cost
Free for all orders
Coffee origin
Single-origin
Roasters
Driftaway Coffee only
About the company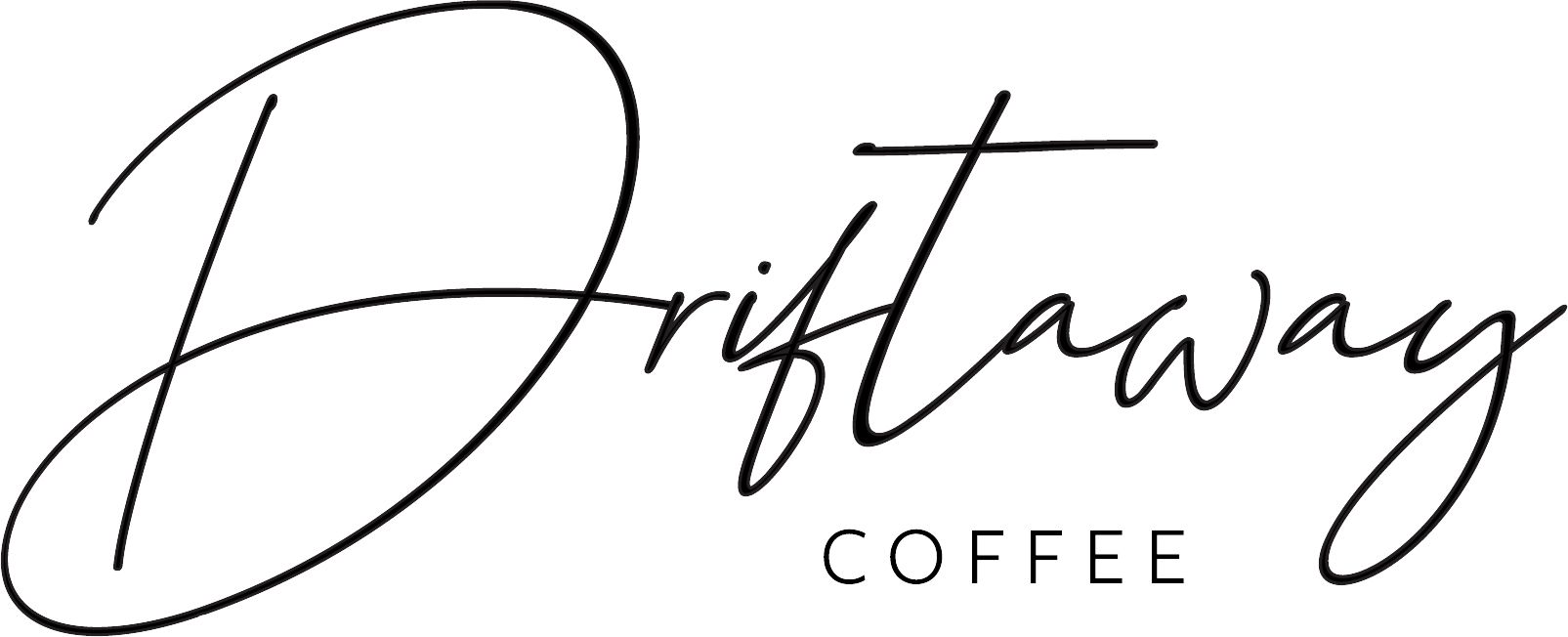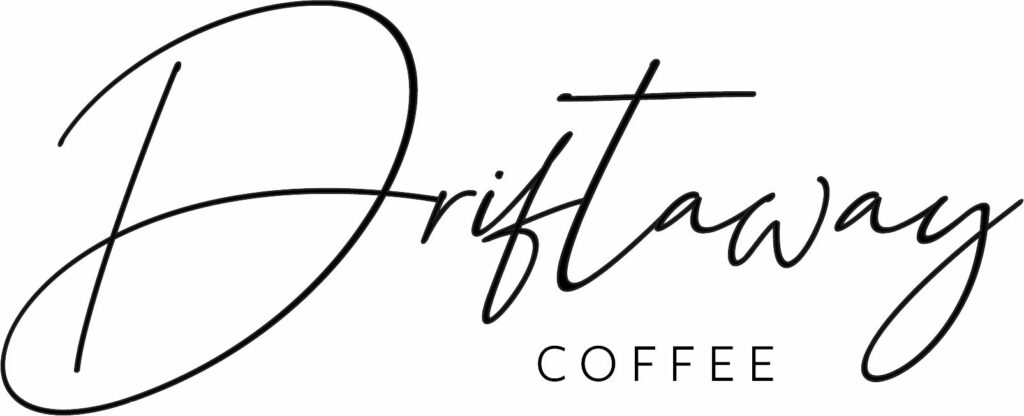 Driftaway is a coffee subscription service that gives its customers a chance at trying out authentically grown coffee from different regions around the world. Their mission is to ensure that the healthiest coffee beans make it to your doorstep.
The company has a roastery in Brooklyn New York where they roast all of their coffee before shipping it. Driftaway believe that roasting the coffee beans is part of their creative process in their coffee delivery service. The company has received high recognition from popular platforms like CNN, Buzzword, Food network, Wall street journal and loyal subscribers because of their unmatched convenience and accessibility. 
Moreover, Driftaway allows consumers to experience unique coffee flavor profiles that are rooted in sustainability and social consciousness. Each of their coffees has a story of the farmer that makes a sip fully satisfying. Plus, the coffee bag comes personalized with your name on it, making it an extra-personal gift.
Each subscription at Driftaway begins with a sampler kit with 4 coffees to learn your preferences. You can customize every subscription by choosing the amount of coffee, subscription duration, and delivery frequency. 
Driftaway coffee subscription review
Here is a closer look at the notorious Driftaway coffee subscription:
Membership options 
When you subscribe to Driftaway coffee services, there is absolutely no reason why you should run out of coffee in the middle of the week or month. The company is popular because it allows its customers total control over the amount of coffee they send you. 
The amount of coffee you order mostly comes down to how much you consume. You can choose to have the coffee you have picked every once in a week or month.
You can subscribe to either the 11 ounces or 16 ounces options. The 16-ounce option is the better choice in terms of affordability if you are on a subscription.
Shipping location, time and costs
Driftaway is very reliable when it comes to shipping. Their shipping is pretty speedy and first class via UPS or USPS. They roast every Sundays and purpose to ship within hours to keep their promise of coffee freshness. Depending on your location, you will receive your coffee 3 or 5 days after it is roasted. If you place your order before 5PM Eastern time, you could possibly get your delivery the same day.
The company will also keep you informed about the shipping and delivery dates on your email. They even send reminders 24 hours before they make the shipment to allow you to make changes on your order in case you were not too sure before.
If you subscribe to get the 1-pound or 2-pound bags, you get an upgrade to shipping priority. You are guaranteed to receive your delivery in 1 to 3 days after making the order.
The cost of shipment is included in the price tag of each of the coffee sizes.
Coffee variety, taste and quality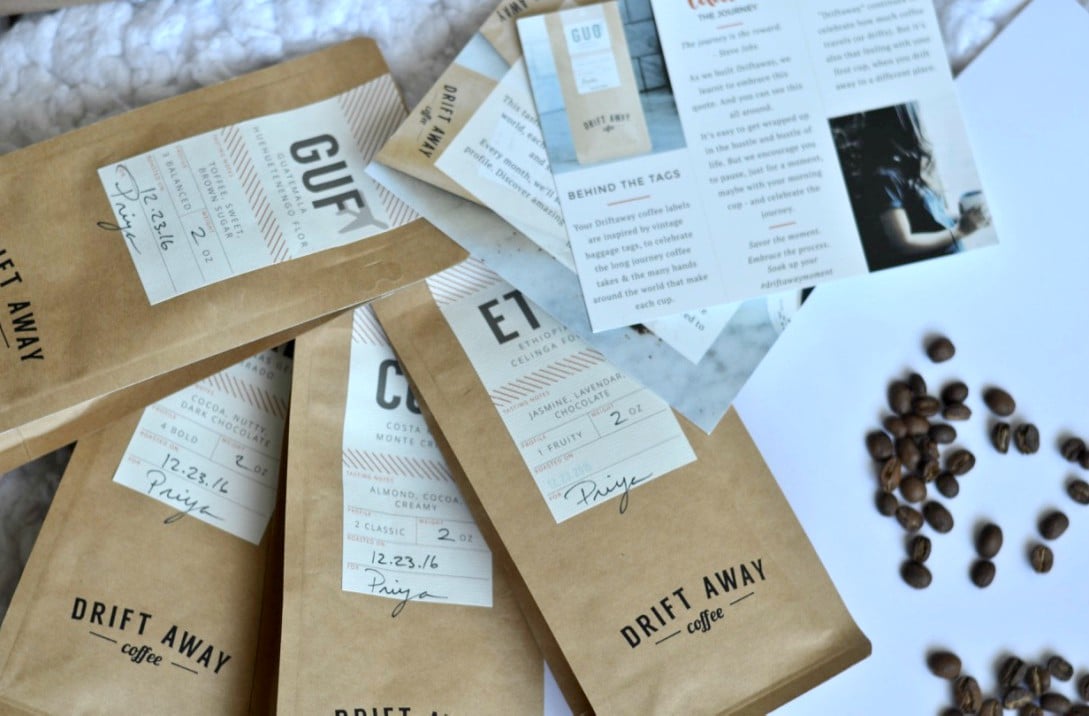 Driftaway sets itself apart from other coffee subscriptions with its high-quality coffee that comes from different origins and producers. All their coffees are of single-origin and don't have blends or decaf options. 
In terms of taste, there is something for everyone. Each subscription kicks off with a tasting kit that has 4 different coffee flavors, to help the company determine your preferences. The 4 tastes include: fruity, classic, bold and balanced.
The fruity roast is the lightest of all the 4. It originates from African countries like Kenya, Tanzania and Ethiopia. It is loved by many for its vibrant notes of florals, honey, and citrus.
The classic roast is smooth and savory. It is Driftaway's medium roast that originates from South American countries like Brazil. The coffee has notes of cocoa and nuts, thus an ultimate option for coffee drinkers who love a sweeter flavor.
The balanced note lives up to its name as it is a light medium roast. Its delicious flavor is a blend of citrus notes and sweeter chocolate notes. The coffee beans of the balanced roast originate from Central American countries like Guatemala and Nicaragua.
The bold roast is Driftaway's darkest roast. It originates from different places like Uganda, Peru and Papua New Guinea. Although the beans come from various countries, they are always dark roasted. The bold roast has notes of chocolate and nuts and a sweet fruity flavor.
Certifications
Driftaway mostly gets its coffees from small producers and although they try to get FT-certified coffees, certification is usually impossible for the small farmers they source from. They do have fair-trade coffees sometimes but they don't highlight any of their coffees as fair-trade, direct-trade or organic. 
The company even boasts of having direct relationships with most of the producers they source their coffee from. They have a farmer feedback program that involves them sending customer feedback and some roasted coffee back to each of the farmers. 
Price 
Driftaway subscriptions are competitively priced. The prices depend on the amount of coffee you order, the frequency with which you want to receive it, and your commitment to the subscription. They range between 10.29 dollars and 34 dollars. 
Compared to other coffee subscriptions, the Driftaway prices are fairer, especially if you opt for the 6-month commitment. 
Here is a breakdown of the costs per ounce:
6-month commitment
7 ounces bag-10.29 dollars/1.47 dollars per ounce
11 ounces bag-13.71 dollars/1.25 dollars per ounce
16 ounces (1lb) bag-18.86 dollars/1.18 dollars per ounce
32 ounces (2lbs) bag-29.14 dollars/0.91 dollars per ounce
Month-to-month subscription:
7 ounces bag– 12 dollars/1.71 dollars per ounce
11 ounces bag– 16 dollars/1.45 dollars per ounce
16 ounces (1lb) bag-22 dollars/ 1.38 dollars per ounce
32 ounces (2lbs) bag– 34 dollars/1.06 dollars per ounce
If you to choose to pay for 6 months upfront, you can save between 14 dollars and 136 dollars depending on the size and frequency of your order. You can get the coffee shipped to you on a weekly, bi-weekly or monthly basis.
Customization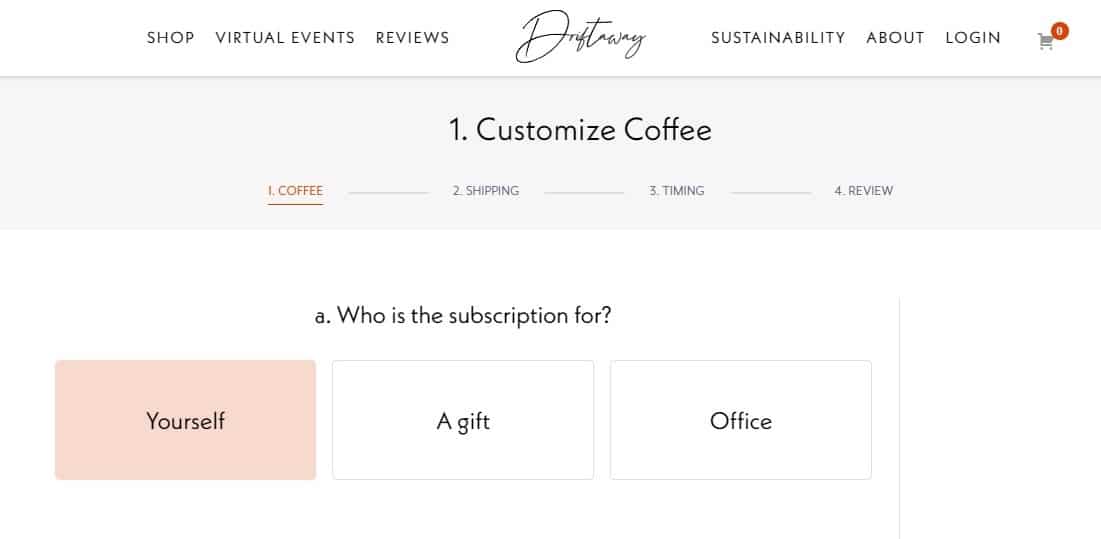 Customization is one of the features that sets the Driftaway coffee subscription services apart. You have the power to control your subscription, from size of your shipment and what's included to the frequency. The level of customization is unmatched.
Here's how far you can adjust your shipment:
Shipment size and frequency-You can choose to get any amount of coffee of the 4 options available: 7ounces, 11 ounces, 16 ounces and 32 ounces and change anytime you want. As for the frequency, you can choose to get your shipment either weekly, bi-weekly or monthly and change anytime you want.
Pause subscription-you can pause your coffee subscription anytime and choose a particular date to restart
Shipments- You can manage your account easily to track, make order changes, or even cancel your shipments on time.
Coffee-Your tasting profile determines the future coffees you receive. Unlike most coffee subscription services, Driftaway has a single coffee from each profile every month and they send you the coffee that aligns with your tasting profile. 
Grind- Driftaway only does whole beans. Some people complain that the beans are a bit limiting, especially those who don't have top-quality coffee grinders. The quality of the beans is out of this world though.
Origin and Roasters- All the coffees at Driftaway are single origin but they come from different places. They don't have any blends. On the bright side, they roast all the coffee for quality assurance.
Packaging
Coffee packaging is not just about aesthetic appeal. You see, coffee packaging Trusted Source How Packaging Material Impacts Green Coffee Quality Over Time - Perfect Daily Grind Sensorial degradation in green coffee can represent significant financial losses for producers, traders, and roasters. Yet while a certain degree of degradation over time may be inevitable, the material of the coffee packaging can have a significant impact on the shelf life and quality of the beans. perfectdailygrind.com has a direct effect on the quality of the coffee. The tasting kit comes in a box that contains all the 4 samples. The future shipments come in branded packaging envelopes that contain the single bag of coffee and a card with information about the coffee.
The packaging's design is minimalistic yet aesthetically appealing. It is inspired by a baggage tag look. Most importantly, all the important information about your shipment is clearly laid out, including the roast day of the coffee.
The 11 ounces, 16 ounces, and 32 ounces bags feature a one-way valve that is crucial for the coffee's freshness. Fresh coffee releases carbon dioxide as a by-product of the roasting process. The one-way valve, therefore allows the carbon dioxide to leave the bag without oxygen getting in. Oxygen can compromise the quality of the coffee by causing the complex aromas to get lost.
Customer service
Driftaway's customer service is unparalleled. They offer a searchable help section, email support and the chance to leave a voicemail. Their help section has all the relevant FAQs and useful information you would need to know before subscribing to their services.
Despite being super-friendly, some subscribers have complained of the customer support being slow. They claim that it takes Driftaway about 5 to 8 days to get back with a response. Others report that they take longer to respond only when they have an influx of orders, especially during the holiday season
Website and app user experience
The Driftaway coffee website is well-designed and highly intuitive. You can tweak your preferences in the account settings. You can make changes to your taste profile, pause a subscription and view your coffee history. The site is pretty impressive when it comes to information layout and other highlights in regards to user experience.
Driftaway also has an iPhone app which is incredible for users who spend less time on their computers compared to their mobile gadgets. You will get an email a few days before your coffee ships so you can make changes before your order goes through. After this, you will get a steady stream of emails that inform you about your shipment.
Other features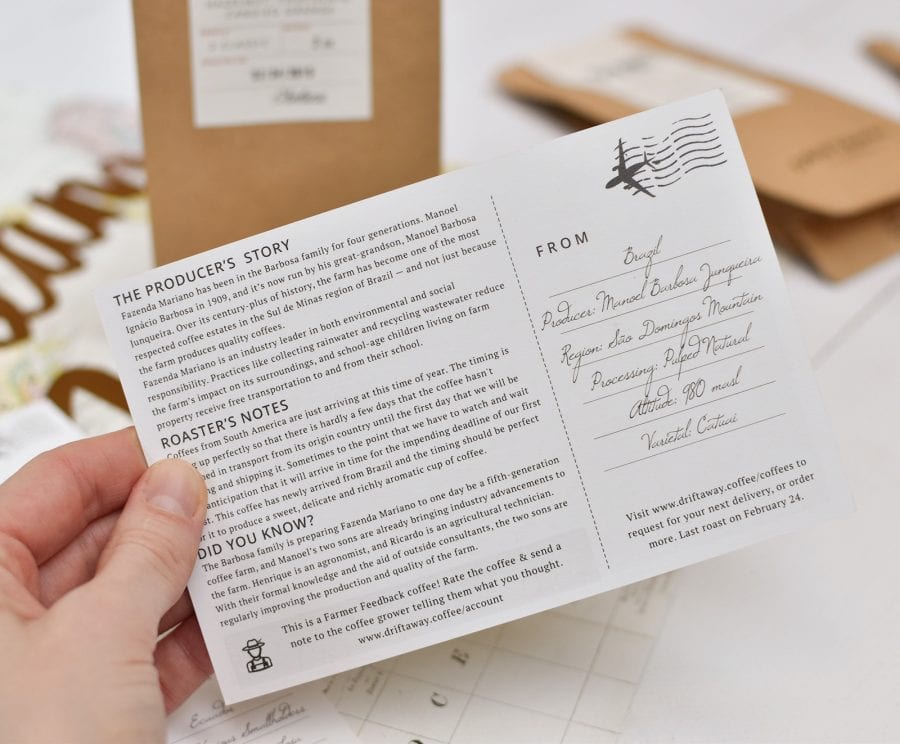 Postcards: The postcards are a substantial reason why Driftaway is highly rated. They make a sip of your coffee wholesome. They depict the story of each coffee, where it's from, who picked it, and why it is special. The cards also have the names of the farmers and farms that produced the coffee.
Besides giving people the opportunity to drink excellent coffee, Driftaway is committed to improve lives through what they do. For every pound of coffee they roast, 0.05 dollars is donated to the World Coffee Research Trusted Source World Coffee Research - Donate
Our member companies fund essential, innovative, open research to:
Increase cup quality
Sustain coffee supplies in the short and long terms
Enhance the livelihoods of coffee producers and their families
worldcoffeeresearch.org . According to them, investing in research allows farmers to grow top-quality coffee that is safe from pests and drought, which, in turn improves their livelihood.
PROS
CONS

Tasting kit for determining your coffee preferences
Freshly roasted coffee
Flexible delivery schedule
Quick shipping
Each shipment has the coffee backstory so you know your coffee better
Affordable price

No blends
No decaf
No roaster variety
Conclusion
Our Driftaway coffee subscription review depicts the company's services as a fantastic option for anyone trying specialty coffee for the first time or someone looking to drink high-quality coffee with less hassle. The tasting kit offered at the beginning of the subscription is a great way for someone to begin exploring different coffee tastes and is one of the features that distinguish Driftaway from other coffee subscriptions. What's more you are guaranteed of getting the right type of coffee, in the right amount at the right time with the high level of customization. The only downsides to the subscription is it doesn't offer adequate flexibility or variety when it comes to selecting specific coffees.
References
1.
How Packaging Material Impacts Green Coffee Quality Over Time - Perfect Daily Grind
Sensorial degradation in green coffee can represent significant financial losses for producers, traders, and roasters. Yet while a certain degree of degradation over time may be inevitable, the material of the coffee packaging can have a significant impact on the shelf life and quality of the beans.
2.
World Coffee Research - Donate
Our member companies fund essential, innovative, open research to:
Increase cup quality
Sustain coffee supplies in the short and long terms
Enhance the livelihoods of coffee producers and their families