Blue bottle coffee has a rich history that no doubt influenced their venture into the coffee subscription service. Some of this history includes venturing into coffee cafes that are distributed in and outside the US. As such, the company does have a certain kind of expertise when it comes to coffee and how people like to drink it.
This fact is reflected in the coffee bean offers, although if you've never had a subscription, you're likely to be skeptical about that. Consequently, a Blue Bottle Coffee Subscription Review can help clear the air on why you should or shouldn't pay for it. Given our extensive experience with coffee, we feel we are much better suited to reviewing the subscription service, something we've already undertaken and completed. Here's all the crucial information you need about the service.
Specifications
Shipping location
The US, Australia, Canada, Germany, France, Italy, Japan, The Netherlands, New Zealand, Switzerland, the UK
Shipping frequency
Every 1, 2, 3, 4 weeks
Shipping time
1 – 6 days, 1-2 days
Shipping cost
$4-$5 per bag (within the US); free (orders of $35+)
Coffee origin
Single-origin, blends
About the company
In addition to running coffee cafes in the US, Japan, and Korea, Blue Bottle Coffee also sells coffee to home brewers on a subscription basis. This incorporates single-origin coffee, blend coffees, and espresso variations according to the consumer's preferences. It's a coffee company that prides itself on the quality of its bean offerings with a specific emphasis on flavor, aroma, and freshness.
For many coffee drinkers, this is just what they need: coffee that suits their drinking habits and tastes, and at the frequency they like. Furthermore, Blue Bottle Coffee sells some coffee tools, including pour-over drippers, filters, cold brew bottles, coffee mugs, and more. More details on the pros, disadvantages, and any information you need on Blue Bottle Coffee Beans in the Review below.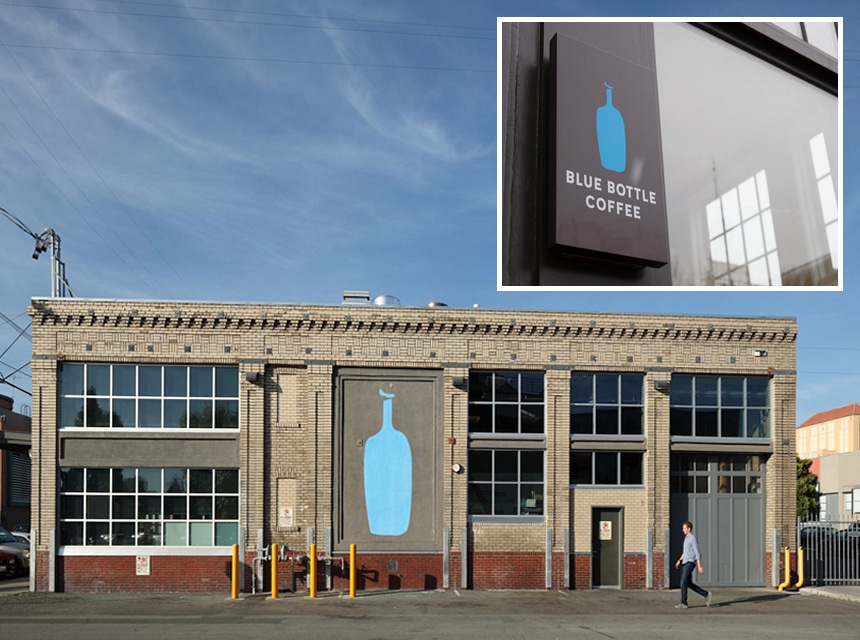 Blue Bottle Coffee subscription review
Blue Bottle Coffee's history is something seemingly out of a well-written movie. Despite being based in Oakland, CA, it's named after Central Europe's first coffee shop, borne out of a conflict between Turkish and Viennese troops. Currently, Blue Bottle Coffee can service the needs of most coffee drinkers in the US and a few other countries around the world, including Japan, Switzerland, Germany, Australia, Canada, and more.
Notably, the coffee is sourced from coffee zones worldwide like East Africa, Asia, South, and Central America. Only regions like West Africa, North America, and the Caribbean are left out of the mix.
There are five coffee types currently on offer on the Blue Bottle Coffee website that can be shipped to you if you live in any one of their shipping locations. Shipping seems reasonably prompt where the beans are sent out no more than 24 hours after roasting.
That said, shipping is also subject to the roaster's schedules as most work between Monday and Friday.
You can get any of the subscription options that we will get into below, although it's also possible to order individual coffee beans without committing to Blue Bottle Coffee long-term. Even if the coffee is for a loved one, it's easy to get them a beans gift that they'll love.
Overall, the service and management seem to have thought about fulfilling many consumers' needs. Nevertheless, they do fall short in a few areas. Some examples include certifications. While some of the coffees are organic, there's no information on whether the products are sustainably sourced. Additionally, you can't tell if the workers who worked on the farms and in the factories were treated humanely.
Another seemingly overlooked demographic is people who don't have grinders. There are a few other examples of why this coffee subscription may not be for everyone. More on this and the positives in the sections below.
Membership options
If you opt to subscribe to Blue Bottle Coffee, there are a couple of membership options to pick from. The Standard is one of the simpler membership options. This is where you're in complete control of the coffee you'll be taking. You scroll through the 19 coffee options on sale, although you can filter them according to your needs.
One example is if you only take decaf coffee, you can scroll through the "Coffee Type" drop-down menu, select the decaf option and have the algorithm trim down your choices. You can also take the opportunity to filter coffees by the region where they're produced and the processing types.
After selecting the coffees, you choose how often you want your shipments and the sizes of the bags before entering your payment details.
For those who don't have the right equipment to get the most out of their coffees, there's the option of the Welcome Kit subscription. This will include something similar to the standard subscription, but things like coffee filters, a coffee dripper, and a carry bag will also be included at a subsidized cost.
Blue Bottle Coffee also has something for those who're on the fence about the subscription. This is the free trial option that gives you ten days to try out the coffee products.
Nevertheless, you'll still need to pick between the various coffees available, including single-origin, espresso coffees, and blends.
If you don't cancel before the end of the ten days, this turns into a full subscription where you'll be charged for consecutive shipments.
Lastly, there's the Gift subscription. With this option, you can surprise your loved ones by picking the coffees you think they'd love. Furthermore, you select variables like the number of shipments in addition to shipping frequency.
Alternatively, you can purchase the plan in the form of a gift certificate. This allows the receiver more control over the coffee selection.
Shipping location, time, and costs
In terms of shipping locations, the Blue Bottle Coffee Subscription service has quite an impressive repertoire. They can ship to any location within the US, including places like Hawaii. Furthermore, just like the company's coffee cafes, there are other locations worldwide, some of which we already mentioned. Excluding the ones we mentioned above, others include Australia, The Netherlands, France, Italy, New Zealand, and finally the UK.
Of course, the shipping times will vary depending on how far your closest roaster is from your location. Nevertheless, the longest it can take is six days. For those in the US, it's more likely that your coffee shipment will be at your door in about two days. This is impressive and in line with the company's goal of always providing the consumer with the freshest, most flavorful, and most aromatic coffee available.
For those unwilling to subscribe to the service, shipping might be a costly affair. It can cost you up to $5 a bag for those in the US. For those outside the country, the cost can be even higher. Nevertheless, it's possible to offset some of the shipping costs by buying your coffee in bulk. In the US, this amounts to more than $35.
Notably, the shipping costs are a bit higher than most other subscription services, but for many people, the roasted-to-order fresh beans may be worth it.  Ultimately, shipping isn't the best in class, but it seems to fit the needs of most coffee enthusiasts, especially those in the US, quite nicely.
Coffee variety, taste, and quality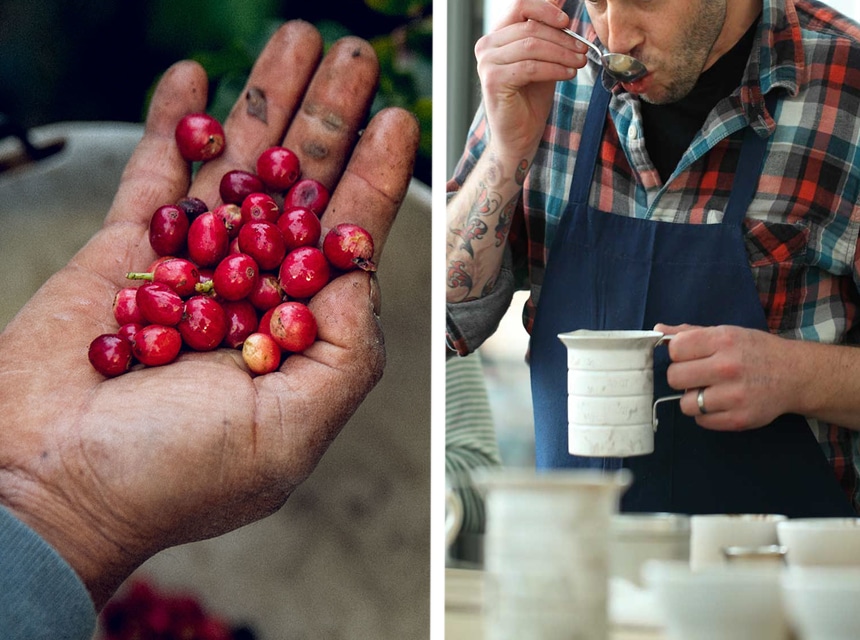 As we highlighted above, coffee flavors and aromas are key selling points for Blue Bottle coffees. Notably, this can be traced back to the growing and processing of these coffees even before they reach the roaster's factory.
Coffee cherries are fruits, and if they're grown in the right conditions and the right nutrient-rich soils, they tend to be full of flavor. However, even the picking has to be top-notch; otherwise, the final product may not be as good. If they're picked too soon or too late, the coffee will likely not satisfy your taste buds.
The same is the case if the coffee is not processed the right way. Most of the flavor is locked into the fruit section of the coffee cherries and not the seeds. Drying them with the cherries on transfers some of this flavor into the beans.
These reasons are why the Blue Bottle Service is very particular about where they get their coffees. Furthermore, the roasting process can determine the richness of flavor. Typically, light-roast or medium-roast coffees are the best options for retaining floral and fruity flavors, and these are all available with the Blue Bottle coffee beans we reviewed.
The floral and fruity flavors are much more understated with darker roasts and are instead replaced by more body. Most people have more experience with darker roasts since they were the Standard for such a long time. Additionally, some of them still prefer darker roasts, and this market is also served by the subscription service.
Each of the coffees in Blue Bottle Coffee's subscription service is taste-tested regularly to ensure the much-needed consistency. Consequently, if you're satisfied with the quality, you're going to get it again and again.
Given that the coffee options are from different regions of the world, there will be some varieties in taste that appeal to most coffee lovers. For instance, there's something for people who like sweet and syrupy coffees, those who want fruity notes, and even those who like bold coffees.
For instance, if you subscribe to the Kenya Kirinyaga Kamwangi single-origin coffee, you can expect bright acidity, a syrupy body, and intense tropical fruit flavors. The coffee is a Ruiru 11, SL 28, Batian cultivar, which according to the Africa Fine Coffees Association Trusted Source HIGHLIGHTS OF BATIAN – AFRICAN FINE COFFEES ASSOCIATION (AFCA) Coffee Research Foundation in Kenya has recently released a new coffee variety called Batian. The variety is tall statured, deep rooted, true breeding, resistant to Coffee Berry Disease and Coffee Leaf Rust, and has very good bean and cup quality. afca.coffee , is preferred due to its resistance to Coffee Leaf Rust and Coffee Berry Disease.
For a blend option like the Playlist coffee, the most intense flavors we noticed were orange and hazelnut, in addition to the feeling that the coffee had a dash of sugar.
Notably, due to the brewing method, cold brew coffees seem to have some of the richest flavors, and the cold brew set by Blue Bottle Coffee is no different. Depending on the coffee option you pick from the set, the flavors could be chocolaty, dark, bright, bold, or more.
Lastly, the fact that these coffees are shipped to you promptly after roasting means they get to your door when the flavors are at their peak. However, you shouldn't wait too long to brew because with coffee, the longer you wait, the higher the loss of flavor.
Certifications
Certification is not an area where the Blue Bottle Coffee subscription coffee excels. The coffees are not Rainforest Alliance, Fair Trade, or Direct Trade Certified. That said, there are some Certified Organic coffees in the mix.
Price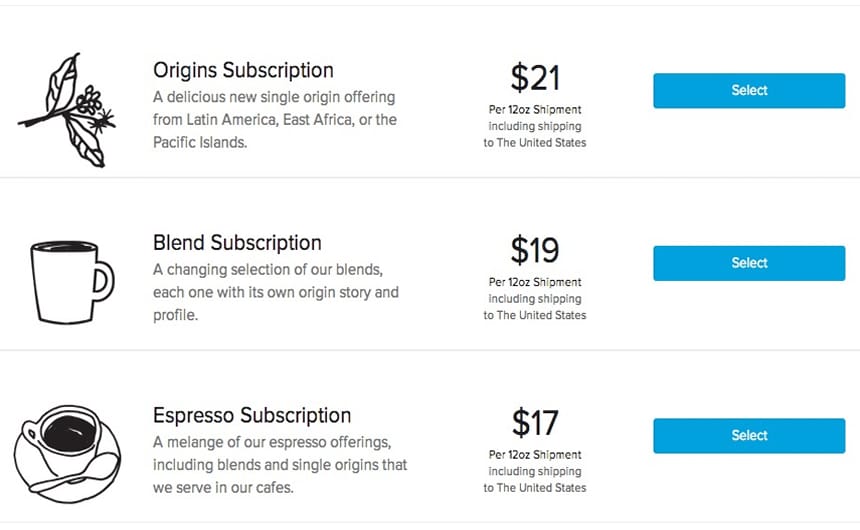 With the Blue Bottle service, you can pick coffees as cheap as $8. Alternatively, you could choose coffees that set you back as much as $40. This means that within the 19-option repertoire of the subscription service, there is something for everyone in terms of budget. Nevertheless, where the $40 option is concerned, the extra cost may be because it comes in a tin while other alternatives ship in coffee bags.
Customization
Customization isn't too bad, according to our Blue Bottle Coffee subscription review. As we've mentioned severally, you're at liberty to pick and choose the coffee you want in terms of affordability, tastes, roast type, and more.
Next, you can choose to go with a subscription or a single purchase. Once that's done, you control the shipping schedule and the number of bags shipped, including when to pause and continue the subscription.
For those not entirely sure of what they like in their coffee, a match-up questionnaire is provided, and at the end, you get two coffee recommendations. The questionnaire asks for details like which spices you like, what salad or chocolate types you prefer, and more, all to get a better sense of your taste pallet. This ensures the bean recommendations are spot on and likely to please the consumer.
Packaging
Blue Bottle Coffee does quite well with its packaging. There's the expensive option of a tin-can, although most people are unlikely to pick it. The coffee bags themselves are pretty impressive especially compared to offerings by other coffee subscription services.
First, they are zip-lock bags that allow both easy access and easy closure if necessary. Remember, moisture and air getting into the bag could be why the freshness doesn't last long. As such, being able to close the bag after use is an asset.
Also, air automatically gets into the bag when you open it.
As such, The Blue Bottle Company saw it fit to include a CO2 valve that extracts the air inside the bag once it's closed.
Lastly, the bag is light-proof since light has also proven to be detrimental to the shelf-life of coffee.
One con, however, is you have to be careful with the zip-lock seal. It opens pretty easily, and if you don't seal it properly, it may be why you have to contend with stale coffee.
Customer service
The email [email protected] Trusted Source Coffee Roaster - Brewers, Subscriptions & Brew Guides - Blue Bottle Coffee Get updates from Blue Bottle. Sign up for stories, coffee tips, and special gear bluebottlecoffee.com is also open for those with inquiries about the terms and conditions of the subscription service. An office phone number is also available for those without the patience to wait on an email response.
Website user experience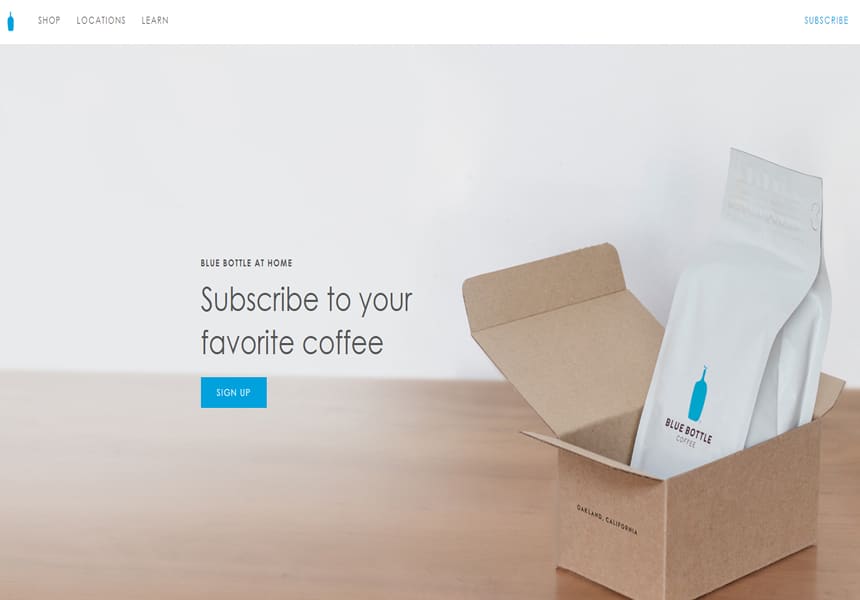 Subscribers don't have anything to worry about when navigating the Blue Bottle Coffee website. You can access their coffee options from the "Shop" drop-down menu. The subscription service is also just as readily available.
Furthermore, you can access all informational details about a coffee just by clicking on it. This includes the flavor profile, origins, roast days, and sometimes even some history on the coffee.
Unique features
One of the service's most unique features is the inclusion of an information card with your shipments. This features details about the origin, producers, and even some tasting notes that might help you appreciate the coffee better. Also, details like the roast date are added to the package, so you know the freshness and peak flavor window.
PROS

CONS

Multiple budgetary options in terms of bag size, beans price, and subscription options
Regular shipping to match your coffee drinking schedule
A gift subscription option is available
Blue Bottle offers coffee beans at peak freshness due to roast-on-order and prompt shipping
There are single-origin and blend coffees available
High standards in terms of quality which are enforced by consistent testing
Packaging is top-notch
Ships to a wide variety of locations
You can get a free trial subscription

The coffee selection is relatively small
Shipping costs for single purchases are high
No pre-ground options
Conclusion
The Blue Bottle Coffee Subscription review above confirms that there are many loveable and positive attributes of the service. The bag design is one such highlight, given that it also includes a valve to eliminate air. Another highlight is the shipping locations which extend to more than ten countries, including the US. However, the service has some significant cons, including high shipping costs, a relatively small selection of coffees, and the lack of pre-ground coffee options. If none of these are enough to deter you, the Blue Bottle Coffee subscription may be what you need.
References
1.
HIGHLIGHTS OF BATIAN – AFRICAN FINE COFFEES ASSOCIATION (AFCA)
Coffee Research Foundation in Kenya has recently released a new coffee variety called Batian. The variety is tall statured, deep rooted, true breeding, resistant to Coffee Berry Disease and Coffee Leaf Rust, and has very good bean and cup quality.
2.
Coffee Roaster - Brewers, Subscriptions & Brew Guides - Blue Bottle Coffee
Get updates from Blue Bottle. Sign up for stories, coffee tips, and special gear