With most coffee shops temporarily shut down, avid coffee drinkers are having it rough. Those whose days must begin with a good cup of coffee are forced to make several trips to the grocery store. What better time to try a coffee subscription service? Bean box is a reliable coffee subscription service based in Seattle. It works with numerous small-batch, gourmet roasters to handpick the best artisan coffees from around the world.
Bean box roasts its coffees in Portland and Seattle before sending them fresh to your doorstep. Their subscription allows you the flexibility of choosing to stick to one coffee every month or be adventurous with a variety of coffee flavors. Also included in the subscription are fun facts and free gifts like chocolate for a unique coffee drinking experience. Our Bean Box review takes a closer look at the coffee subscription. Read on to find out if it's the one for you.
Specifications
Shipping location
The US, Canada
Shipping frequency
Monthly, biweekly, weekly
Shipping time
5 business days; 48 hours after roasting
Roast type
Whole bean, ground
Coffee origin
Single origin, blends
About the company
Bean Box is a popular coffee subscription service based in Seattle. It was founded for the love of coffee by 2 software engineers, and it aims to provide customers with the best coffee experience at unmatched convenience. The company works with multiple roasters within Seattle. They select the best coffee beans carefully before roasting them to peak flavor. What's more, they deliver coffee right to your doorstep within the first 48 hours after roasting to ensure maximum freshness. 
The subscription suits picky coffee drinkers as it has the provision for choosing a roast preference. You can pick light, dark, espresso or decaf roasts. Bean box goes out of their way to ship out the most interesting coffee flavors, and it allows you to change your preferences any time you want. You can choose to have your subscription every week, every other week, or monthly. All considered, Bean Box is one of the best coffee subscription companies right now because of their diverse services.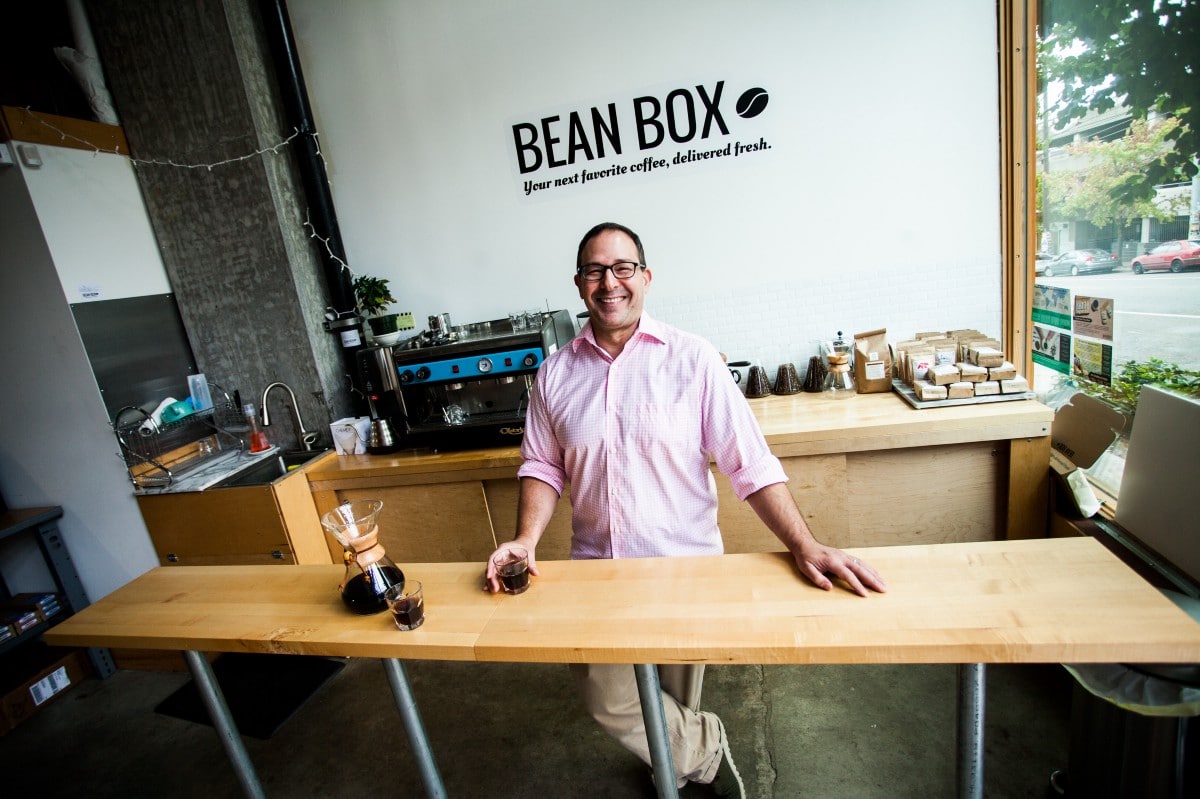 Bean Box subscription review
The Bean box subscription has all the bells and whistles that set the company apart as one of the best on the market. The company has artisan coffee experts and excellent customer service to give its subbies unparalleled coffee drinking experience. Here are some of the crucial factors that set it apart from other coffee subscription services:
How it works
Bean box offers its subscribers 2 options to enjoy their rich flavored hand-picked coffees. Here is detailed information about the 2 options and a step-by-step guide on how to get started with the subscription.
Step 1. Log on to the official Bean Box website (Beanbox.com).
Step 2. Go to the subscriptions page.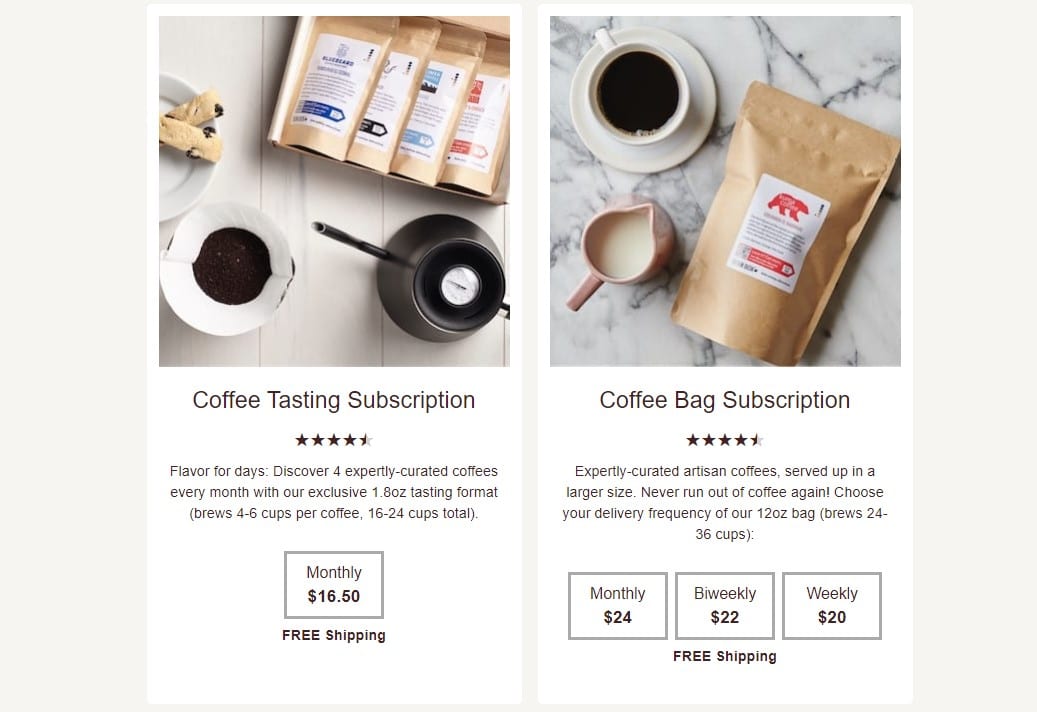 Step 3. Choose a coffee plan. There's the Bean Box sampler that includes four 1.8 ounces bags of whole bean coffee in different flavors and a Coffee of the month that includes a 12-ounce whole bean coffee bag.
Step 4. Choose a preparation option.
Step 5. Choose a roast preference, then click the 'Subscribe NOW' button.
The plan will keep renewing automatically, but you can cancel it any time you want. You can pay for the coffee of the month subscription option monthly or once every year. As for the sampler subscription option, you can make monthly payments or a 6-month prepay.
The Bean Box is also a fantastic gift option. Their gift box would make the highbrow coffee snob in your family fall in love with coffee. To get the gift box:
Step 1. Log in to the Bean Box official website.
Step 2. Go to the gifts page.
Step 3. Choose anything from the wide variety of coffees offered including the sampler package and the coffee of the month box.
Step 4. Choose a frame-time, for when you want the gift box delivered.
Step 5. Make the upfront payment then wait for the delivery.
If you choose the 6-month payment plan for either the sampler coffee or the coffee of the month subscription, you end up saving 20% rather than going for the monthly subscription. For the 12-month prepay program, you save even more.
The big news is you can update your order frequency any time. Think of those months you'll be away on vacation, or when you'll have thirsty guests in your house. Bean box has put into consideration that there are months you might need more coffee and there are months you won't need any.
Although the Bean Box subscription is a notch higher than other brands in terms of flexibility, it is not the most flexible subscription service. Your freedom goes as far as choosing a roast type from the 6 options offered and a monthly program. Other subscription services allow you to make a coffee selection. Once you have picked a type of roast, Bean box chooses a coffee that matches your roast preference for you. 
Bag sizes
The 2 subscription options: the adventurous coffee sampler and the coffee of the month option, come in different bag sizes. The sampler comes in four 1.8 ounces while the coffee of the month comes in a 12-ounce bag.
Shipping location, time and costs
Bean box lives up to their promise of delivering fresh coffee at your doorstep by shipping within 48 hours of roasting.
If you live within the US, you will enjoy free shipping on orders that are more than 30 dollars. All subscription plans have zero shipping costs. This means that you will have to pay some shipping fee for the first 3 months of sampling.
All the standard coffee orders are delivered via USPS and the shipping frequency varies according to your preferences. The company will deliver your coffee every week, monthly or every other week.
Bean box roasts their coffees to orders. They order their coffees on Fridays then roast it on Mondays and Tuesdays. Shipping is done every Wednesdays. 
Coffee variety, taste and quality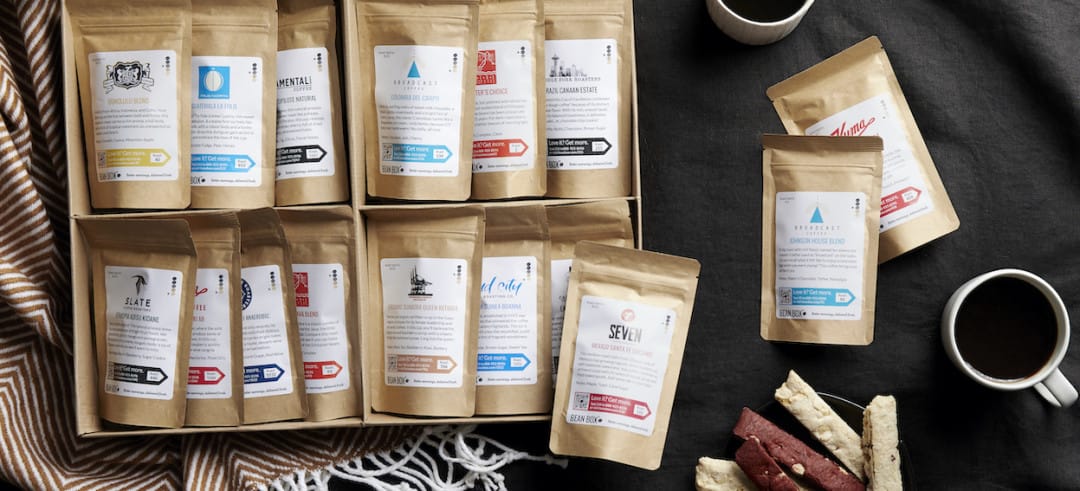 Great quality has a check mark at Bean Box. They deliver freshly roasted coffee beans. The beans are roasted in Portland and Seattle and are shipped quickly to allow you to enjoy them at their peak freshness.
Unlike many coffee subscription services, Bean box has a vast variety of coffees to choose from. The best way to experience their variety is by ordering their sampler package. Let's take a look at one of their most popular samplers. It consists of the Diablo dark roast, twilight blend, Johnson house blend, and Kenya Ichamara.
The Diablo dark roast lives up to its name with its very dark roasted profile. It has a bittersweet taste brought about by tobacco, brown sugar, and dark chocolate. It is a top favorite for many because it is powerfully smooth and highly invigorating.
The Twilight blend isn't as bold as the Diablo dark. It has a rich bold flavor consisting of a dusky overtone of dark chocolate and spice with a hint of cherry. 
The Johnson house blend is an old-fashioned yet exciting flavor. It is a medium-bodied coffee with an undercurrent of toffee and baker's chocolate which is lighter and smoother than the dark chocolate. It's the kind of coffee that gives you nostalgia as it gives you a dose of coffee as it once was.
The Kenya Ichamara is a light high-profile Kenyan coffee. It is one of the most exciting coffees to drink as it has an all-around smooth and fruity feel. Its flavor consists of honey, lemon and tangy cranberries.
These are just 4 coffee flavors from one sampler pack. Bean Box has other 665 coffee flavors to try.
Customization
Customization is a crucial factor to consider when looking to commit to a coffee subscription service. Bean box's highly customizable coffee subscription services are like their main selling point. They offer their customers maximum control of their coffee shipments from the size and frequency to the type of roasts and coffee grinds.
Here are the customization options:
Shipment size and frequency
You can choose to get either the 1.8-ounce bags of the sampler or the 12-ounce bag of the coffee of the month subscription every once in a week, bi-weekly, or monthly.
Pause subscription
This is a very useful option. In case you travel, or you are just not a heavy coffee drinker you can pause your subscription. Also, you can cancel your subscription on time before your plan renews on the official website. All you have to do is log into your account and choose the option to pause or cancel your subscription anytime
Grind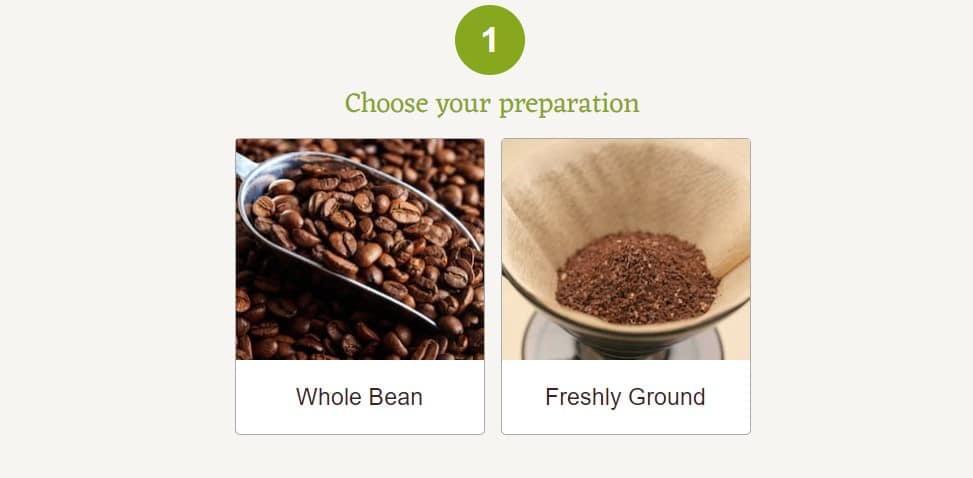 Bean Box offer whole beans and ground coffee. However, you don't get to make a choice on the texture of the grinds. At least they cater to those who don't have quality coffee grinders.
Returns
Bean box doesn't exchange their products but they accept returns. If you are not satisfied with your delivery, you can return it to them. You will get a notification once they receive it, then they will inspect it and if they approve it, you will get a full refund.
Certifications
Bean box is a coffee subscription company that deals in small-batch specialty Trusted Source Coffee Roasts Guide Roasting brings out the aroma and flavor that is locked inside the green coffee beans. Beans are stored green, a state in which they can be kept without loss of quality or taste. www.ncausa.org coffee. It prides itself in associating with roaster that practice direct trade. The roasters meet and establish long-term partnerships with the farmers from whom they get the coffee. The direct relations allow roasters and growers to work on producing the best quality coffees. 
Bean box's high-quality coffees are sourced, roasted and shipped by the Fair trade standards. This means that the cost of labor, minimum pricing, and sustainable practices among other factors have been met for each coffee that they sell.
Price 
Bean box loses a point on price as they are a bit high on the scale. The higher costs probably reflect the high-quality of the vast variety of gourmet coffees they offer. You get what you pay for and the good thing is they include shipping costs and taxes in the price tags. So, it's one-up for getting what you see in terms of price tags. 
Do note that you would have to pay for shipping if you choose to give their first month free trial a shot or order anything below 30 dollars.
The prices of the Bean box subscriptions vary based on the coffee plan or package you choose.
Here is a quick rundown of the prices
For coffee of the month- 1 box costs 23 dollars if you make monthly payments, 21 days if you pay upfront for 6 months, and 20 dollars if you prepay for 1 year.
For the coffee sampler- a pack goes for 21 dollars if you pay monthly, 19 dollars if you pay for 6 months and 20 dollars if you pay upfront for 1 year.
You can take advantage of some great saving opportunities at Bean box like:
1st month free trial- Bean box allows you try out their coffees to see if you like them together with their services before committing to a subscription. The only downside to this free trial is that you have to pay for the shipment. Good things don't come for free huh!
5-dollar starter kit- this includes 2 gourmet coffees handpicked from Seattle and Portland's top-rated roasters. You can give it a shot without making any commitments. If you don't like it, you can move on without any obligations.
Discounts- Bean box offers small discounts per month for the 6-month and yearly subscription plans.
Stay at home offer- This is an offer due to the worldwide pandemic; Covid 19. You can get a discount of up to 30% on the Bean box sampler.
Customer service
Bean box's customer service is out of this world. They have exceptional email support and a customer service line that you can call for any queries. They also have a searchable help section that contains all the useful information and relevant FAQs that you would love to read before subscribing to any of their services.
If you make a mistake with your order, you can cancel and reach out to the customer service and they will respond on the next business day. Most users have applauded their services to be top-notch with a focus on prioritizing their customers. Even when they have an influx of orders, especially during the holidays, Bean box respond promptly to customers' queries.
Packaging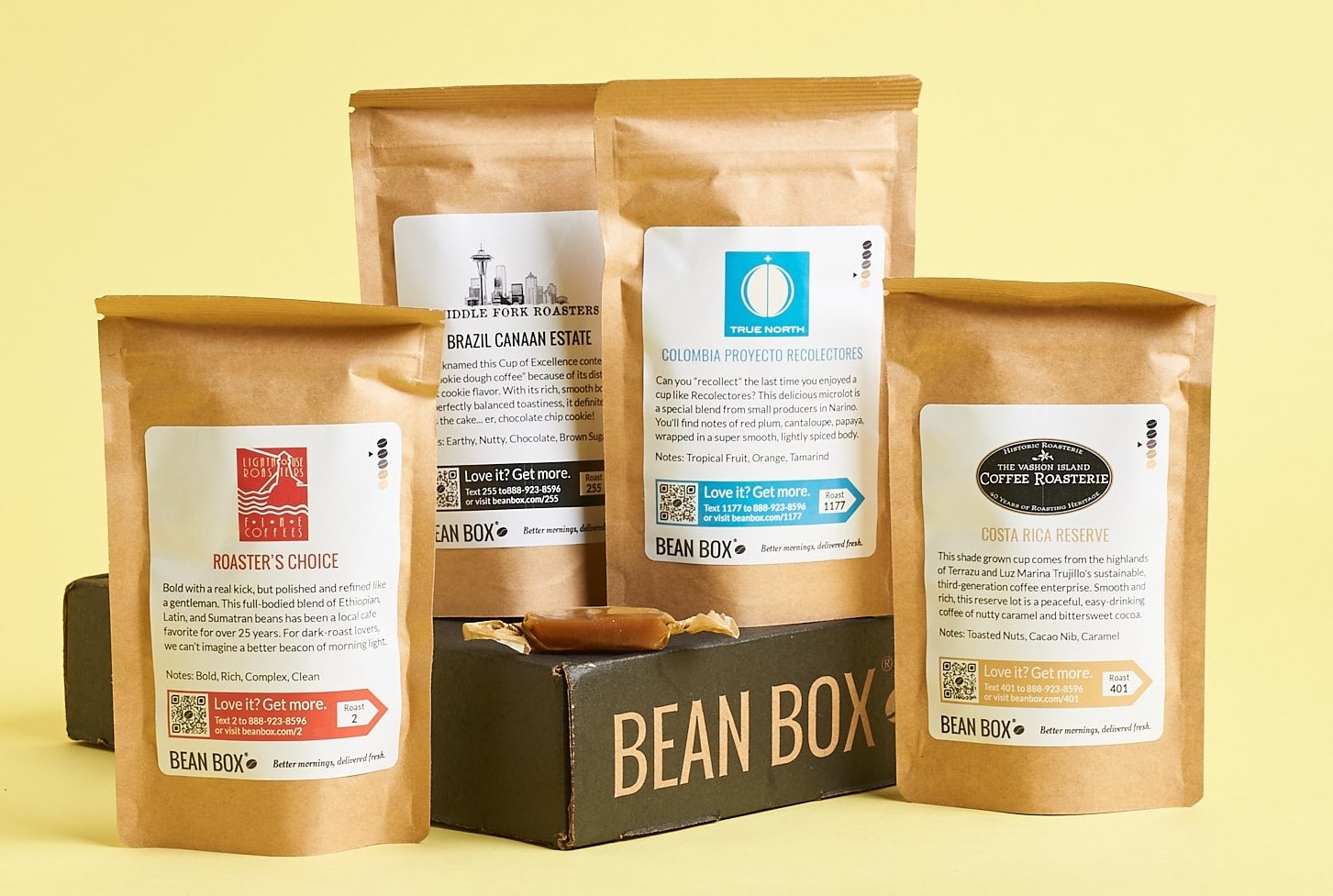 The packaging at bean box is a solid 10. All the coffees come packaged in a beautiful brown cardboard-like box. Their colorful and aesthetic layering makes them visually appealing. What's more, their design allows for easy picking out of the box.
Each coffee pack has a roast date printed on the top, so that you know that it is delivered fresh just like they claim. Another interesting thing on the packages is a QR code, which comes in handy for coffee lovers who like to have more of a particular bean. Re-ordering your favorites will be a tad easier with the bar codes. The simple yet sleek presentation of the coffees from Bean box makes it a perfect gift option if you are shopping for a hard-to-please coffee lover.
Website and app user experience
The Beat box coffee website is incredibly straightforward and user-friendly. The sign up process is a breeze and the options to build your subscription are clearly presented. After a successful sign up, you get your personal account on which you can customize your shipments or tweak your preferences.
You can pause and cancel your subscription anytime you want by logging into the account, as well as choose your favorite roasts. You can also view your coffee history to re-order a particular flavor. Quite simply, the site has its information and other highlights laid out in an impressive manner. 
They also have an app for both iPhone users and Android users who spend less time on their computers compared to their mobile gadgets. You can do pretty much everything on the app with regards to ordering and paying for your coffee subscriptions as it is just as intuitive as the website. 
Other features
Fun facts and candy- the coffee in your delivery comes with some interesting facts about the coffee. Although there isn't much information about the coffees, you get to know the tasting notes, where the coffees were grown, when they are roasted and how to brew them. If you want more information about the coffees you can always check the Bean box website. It might not have every tiny detail but it covers a lot. 
Also, if you get the Deluxe coffee you get 8 artisan coffees together with 8 culinary-inspired chocolate bars well arranged. This makes it the ultimate gift option.
PROS
CONS

Highly customizable 
Tons of Fresh gourmet coffee options
Intuitive website
Coffees selected according to your preferences
Whole-bean or pre-ground options
Free gifts
Bar codes on the packaging make re-ordering favorites easier

Shipping costs for the 1st 3-month trial
A bit on the pricey end
Don't get to choose a coffee yourself
Conclusion
If you are a bonafide caffeine addict who can't make it through the day without a good cup of coffee, you should consider a Bean box subscription. Our detailed Bean box review depicts the coffee subscription services as diverse and satisfying for people with different coffee preferences. Subscribing to their services will give you access to their diverse selection of interesting coffees shipped promptly after roasting. They are a bit pricey but their up to par quality Trusted Source Coffee Quality Testing - IFT.org Coffee is one of the most popular beverages in the world. According to the National Coffee Association (NCA), 58% of American consumers surveyed for its 2011 "National Coffee Drinking Trends" report said they had drunk coffee the previous day. www.ift.org coffee justifies the premium price points. 
References
1.
Coffee Roasts Guide
Roasting brings out the aroma and flavor that is locked inside the green coffee beans. Beans are stored green, a state in which they can be kept without loss of quality or taste.
2.
Coffee Quality Testing - IFT.org
Coffee is one of the most popular beverages in the world. According to the National Coffee Association (NCA), 58% of American consumers surveyed for its 2011 "National Coffee Drinking Trends" report said they had drunk coffee the previous day.